kaitlin ketchum
October 19, 2017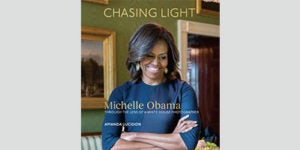 CHASING LIGHT: Michelle Obama Through the Lens of a White House Photographer by Amanda Lucidon, was published by Ten Speed Press, a Crown Publishing Group imprint, on Tuesday, October 17.   This collection of striking and intimate photographs of Michelle Obama—many never before seen—is coupled with personal reflections and behind-the-scenes stories from former Official White House Photographer Amanda Lucidon, presented in a deluxe format. 
expand
Ms. Lucidon, who spent four years covering the First Lady, shares a rare insider's perspective, from documenting life at the White House to covering domestic and overseas travel.
Ten Speed Press Editor
Kaitlin Ketchum
opens a number of windows into the process of creating and publishing CHASING LIGHT in her responses to the following questions:
What was involved in the process of working with Amanda Lucidon and your TSP colleagues throughout the editorial, design and production process?
[caption id="attachment_8129" align="alignright" width="150"]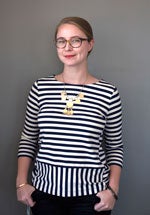 Kaitlin Ketchum[/caption] Ten Speed's book-making process is super creative and highly collaborative—it's one of the reasons I love working here.  Since CHASING LIGHT was a highly illustrated book on a very tight schedule—I acquired it in April, the manuscript was due in May, and we went to print in August to go on sale in October—working closely and collaboratively with Amanda, Creative Director
Emma Campion
, Senior Production Designer
Mari Gill
, and Production Manager
Jane Chinn
,  was crucial to our ability to move fast.  Thankfully, Amanda was a joy to work with, and her background as a White House Photographer meant she was fearless in the face of tight timelines and quick turnarounds! In addition to working long-distance throughout the book-making process, we were fortunate to have Amanda spend a week at the Ten Speed office in California to work side-by-side with our team on the manuscript, photo selects, layout, cover, and color testing. We spread out every photo we were considering for the book on a huge table, and Amanda, Emma, and I spent hours and hours moving them around, debating the selects and order for each chapter. Amanda and I even reviewed the copyedit of her manuscript at my desk, sitting hip-to-hip and making edits together. It was fantastic—if a bit tiring for us all—to be able to spend that time working so intensively with the author, brainstorming, bouncing ideas off of each other, and poring over Amanda's incredible archive of photos from the Obama White House. [caption id="attachment_8130" align="alignleft" width="225"]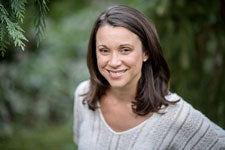 Amanda Lucidon[/caption] Amanda was involved in every decision we made about the book, and she and I were talking almost daily—sometimes many times a day—for months, hammering out every detail. It was definitely the most challenging and the most rewarding book I've edited in my six years at Ten Speed, and the hard work was so worth it— CHASING LIGHT is a beautiful and moving book, and a lovely tribute to Mrs. Obama.
What were the most rewarding aspects of bringing this book to publication?
On a large scale, it's rewarding to see CHASING LIGHT exist in the world, especially in these dark times. Mrs. Obama was, and still is, a source of light and inspiration to so many people around the world, and celebrating her legacy isn't just nostalgic—it's hopeful.  It's also rewarding to see Ten Speed publish such an important book. We may be small, and we may not be in New York, but we have some West Coast magic and produce books that are truly gorgeous and distinctive. It's an honor to have CHASING LIGHT on our list. On a personal and professional level, it was a joy and an honor to work on this beautiful tribute to Mrs. Obama, and with an author as inspiring as Amanda. I'm constantly inspired by my authors, and it was wonderful to collaborate with Amanda, who is such a warm, brilliant, and genuine person (plus, she's got some amazing stories from her time at the White House). Helping artists like Amanda shape their vision and bring it into the world is one of the reasons I love what I do.