krista marino
August 7, 2017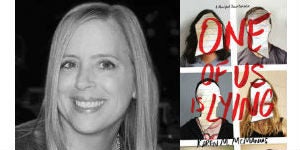 Author Karen M. McManus' debut Young Adult novel, ONE OF US IS LYING, published by Delacorte Press on May 30, has been on The New York Times YA Hardcover bestseller list for six straight weeks, now at #2.  Publishers Weekly took notice and last week writer Shannon Maughan presented an in-depth "Moving On Up" PW profile, with quotes from the author and Delacorte Press Executive Editor Krista Marino.  The article looks at the genesis and writing of the book, how Marino acquired it, and what Delacorte did to turn the title into a bestseller.
expand
Here is an excerpt from the 
PW
 article: Five students—strangers to each other—walk into detention at Bayview High: the brain, the beauty, the jock, the criminal, and the outcast. This is the set-up for ONE OF US IS LYING
(Delacorte, May), the debut YA novel by Karen M. McManus, which has been on the New York Times bestseller list for five (now six) weeks straight, and currently sits in the #2 spot. And, if the book's premise sounds familiar, that's because it purposely echoes the opening notes of the classic 1985 John Hughes movie 
The Breakfast Club. 
But many of those initial similarities fade away when McManus's tale takes a much darker turn, and only four of the five students leave detention alive. Those remaining are obvious suspects, and they all are keeping secrets. "I actually got the idea while I was driving and listening to the radio," McManus said, noting that she gets lots of ideas that way. "I think there's something about having half my brain engaged in a mundane task that kind of gives the other half freedom to roam." During her drive, the song "Don't You (Forget About Me)" by Simple Minds from 
The Breakfast Club's
 soundtrack came on. "I started thinking it would be fun to write an update of that movie, which I loved, but with some sort of a twist," she said. "And the phrase '
The Breakfast Club
 with murder' popped into my head and it just stuck there." She "noodled" on the idea for a while imagining how, and just as importantly, why, you would kill somebody in a classroom. With those questions settled, "the four characters started springing into my mind and just sort of took off from there." And "took off" is the right phrase to describe ONE OF US IS LYING's performance thus far. To date the book boasts 120,000 copies in print and rights have been sold into 20 territories. When it comes to puzzling out what the hook for her book has been, McManus has heard feedback that "it's the characters. In some way it's maybe helpful to have four of them because almost anybody can connect with someone," she said. "[Readers] feel that the characters are relatable and appreciate that they are all flawed. The characters all have growth arcs, and go on different types of journeys to end up in a different place from where they started the book. So they feel real." Krista Marino, executive editor at Delacorte Press, agrees with that assessment. "Something about this book feels very authentic," she said. "People might pick it up because it seems like it's 
Breakfast Club 
meets 
Pretty Little Liars,
 but then you read it, and it's grounded in the real world. The characters are not flashy Hollywood kids and this is a real situation that could happen." Beyond character development, Marino lauds what she sees as the book's other points of appeal. "It's such an easy, fast read and so compelling in so many different ways," she said. "It's easy to talk about and pitch, which is a blessing for publishers, but it exceeds your expectations." She has received feedback that the cover is very compelling to readers, which, she said, "is nice to hear." To read the complete
 PW
 article, click 
here
.