LA Reads
April 4, 2017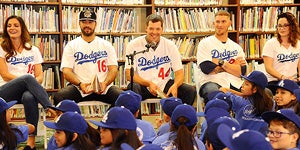 The Los Angeles Dodgers and the Los Angeles Dodgers Foundation (LADF) launched LA Reads, a joint initiative to help address the literacy crisis in Los Angeles by getting children excited about reading, with a special event at the Los Angeles Central Library on Saturday, April 1. Book partner Penguin Random House donated 5,000 titles
expand
that were given away to attending families for their children after Dodgers players such as Rich Hill, Andre Eithier and Yasmani Grandal read to 80 3rd and 4th grade students from local schools and non-profits. Guests also had the opportunity to have their photos taken with the players as well as Dodger alumni Billy Ashley, Dennis Powell and Al Ferrara and the Dodger character.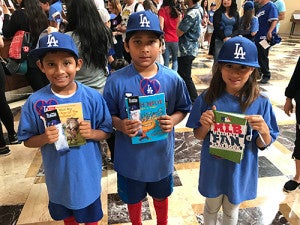 "We are proud to partner with the Dodgers and LADF in support of their LA Reads program. We believe that books and baseball are a perfect fit. In the same way that team sports help children learn to work and play together, books bring together young readers everywhere, expanding their worlds and opening their hearts and minds," said Claire von Schilling, Executive Vice President, Corporate Communications, Penguin Random House. "We look forward to bringing together Penguin Random House books and Dodger baseball, as we work with the Dodgers' Foundation, the team and their fans throughout this 2017 season." "Getting children excited about reading during the summer baseball season and throughout the year is at the heart of our literacy work," said Nichol Whiteman, Executive Director of LADF and Naomi Rodriguez, Dodger Vice President, Community Relations and External Affairs. "With LA Reads, we hope to give children the tools and incentives to develop a lifelong love of reading."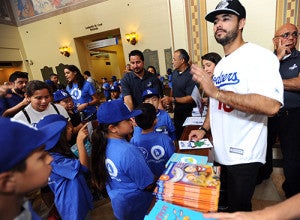 Dodger players, coaches, wives, executives and alumni will continue to read to children at local libraries, schools and non-profit program sites. The Dodgers "Reading Champions" challenge will take place from April to August, further motivating 1st- 8th graders to read. Students who read more than 30 minutes per day will be rewarded with incentives, including monthly opportunities to be on the field at Dodger Stadium.  Students and families can learn more about the program at Dodgers.com/LAReads.