march on washington
January 9, 2018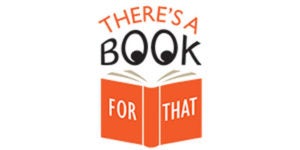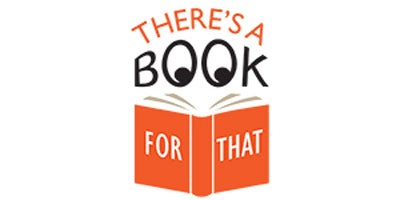 "Our scientific power has outrun our spiritual power. We have guided missiles and misguided men." – Martin Luther King, Jr.
On Monday, January 15th we honor Dr. Martin Luther King, Jr. who was born on January 15, 1929 in Atlanta, Georgia. And April 4, 2018 marks the 50th anniversary of King's assassination. Martin Luther King, Jr. Day  celebrates the life and legacy of a man who brought hope and healing to America. It's a time to commemorate the timeless values he exemplified – courage, truth, justice, compassion, dignity, humility and service – as well as the forgiveness and nonviolence that empowered his leadership. It's especially important for the young to learn about Dr. King's character and contributions and the power of words. We recommend the books herein for education and inspiration for all ages.
expand
Visit The King Center's site 
here
 for more information on this year's commemoration.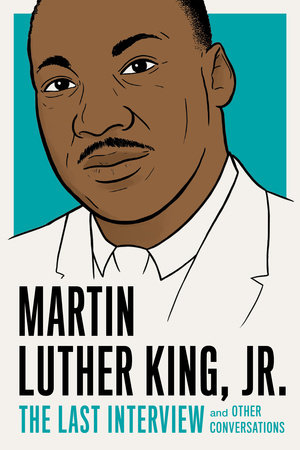 MARTIN LUTHER KING, JR.: THE LAST INTERVIEW AND OTHER CONVERSATIONS
 by Martin Luther King, Jr. This collection ranges from an early 1961 interview in which King describes his reasons for joining the ministry (after considering medicine), to a 1964 conversation with Robert Penn Warren, to his last interview, which was conducted on stage at the convention of the Rabbinical Assembly, just ten days before King's assassination.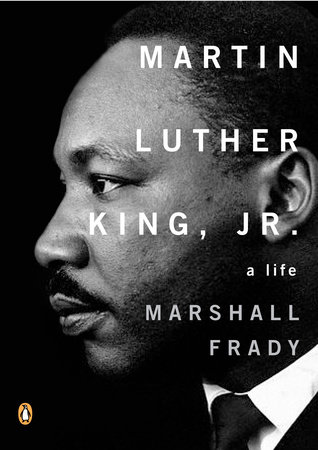 MARTIN LUTHER KING, JR.: A LIFE
 by Marshall Frady Marshall Frady, the reporter who became the unofficial chronicler of the civil rights movement, here re-creates the life and turbulent times of its inspirational leader. Deftly interweaving the story of King's quest with a history of the African American struggle for equality, Frady offers fascinating insights into his subject's magnetic character, with its mixture of piety and ambition. He explores the complexities of King's relationships with other civil rights leaders, the Kennedy and Johnson administrations, and the FBI's J. Edgar Hoover, who conducted a relentless vendetta against him. The result is a biography that conveys not just the facts of King's life but the power of his legacy.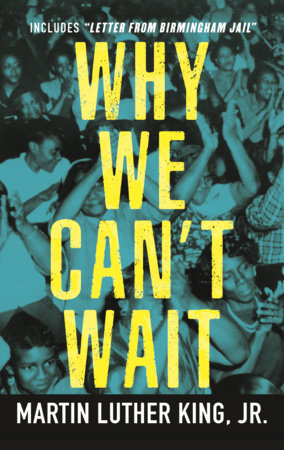 WHY WE CAN'T WAIT
 by Dr. Martin Luther King, Jr., Jesse Jackson Dr. Martin Luther King, Jr., offers an eloquent and penetrating analysis of the vents and pressures that propelled the Civil Rights movement from lunch counter sit-ins to the forefront of the American consciousness.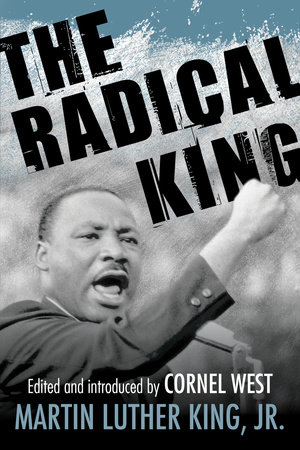 THE RADICAL KING: DR. MARTIN LUTHER KING, JR.,
 Introduction by Cornel West A revealing collection that restores Dr. King as being every bit as  radical as Malcolm X. "The radical King" was a democratic socialist who sided with poor and working people in the class struggle taking place in capitalist societies…. The response of the radical King to our catastrophic moment can be put in one word: revolution—a revolution in our priorities, a reevaluation of our values, a reinvigoration of our public life, and a fundamental transformation of our way of thinking and living that promotes a transfer of power from oligarchs and plutocrats to everyday people and ordinary citizens.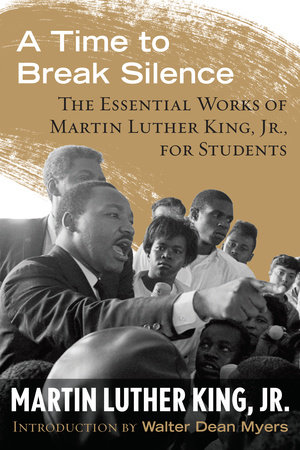 A TIME TO BREAK SILENCE: THE ESSENTIAL WORKS OF MARTIN LUTHER KING, JR., FOR STUDENTS
 by Dr. Martin Luther King, Jr., Introduction by Walter Dean Myers The first collection of King's essential writings for high school students and young people. 
A Time to Break Silence
 presents Martin Luther King, Jr.'s most important writings and speeches—carefully selected by teachers across a variety of disciplines—in an accessible and user-friendly volume.
FOR YOUNGER READERS: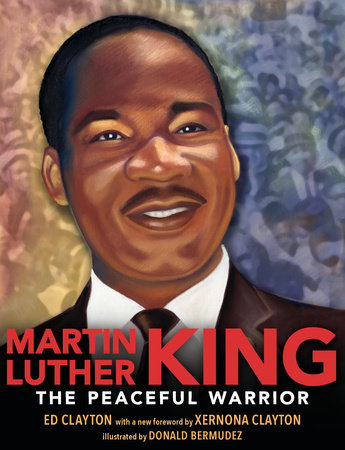 MARTIN LUTHER KING: THE PEACEFUL WARRIOR
 by Ed Clayton, Donald Bermudez, Xernona Clayton Follow the inspiring life of Martin Luther King Jr. in a moving, vital, and informative book by an author and an illustrator with close ties to Dr. King's family. Martin Luther King Jr. devoted his life to helping people, first as a Baptist minister and scholar and later as the foremost leader in the African-American civil rights movement. An organizer of the Montgomery bus boycott and cofounder of the Southern Christian Leadership Conference, Dr. King won the Nobel Peace Prize in 1964 for combating racial inequality through nonviolent resistance.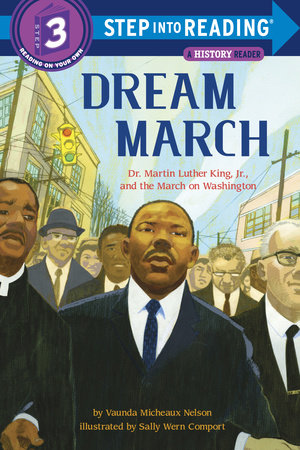 DREAM MARCH: DR. MARTIN LUTHER KING, JR., AND THE MARCH ON WASHINGTON
by Vaunda Micheaux Nelson, Sally Wern Comport Set against Dr. King's historic march on Washington in the summer of 1963, a moving story and powerful illustrations combine to illuminate not only one of America's most celebrated leaders, but also one of America's most celebrated moments.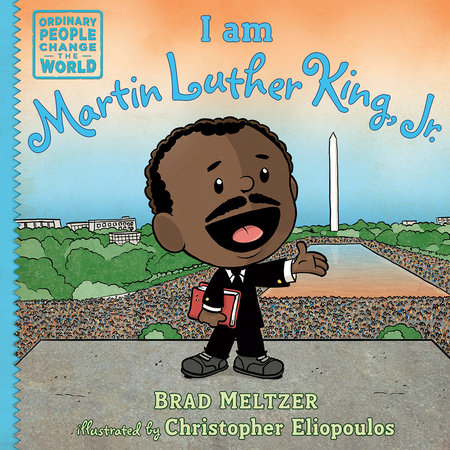 I AM MARTIN LUTHER KING, JR.
 by Brad Meltzer, Christopher Eliopoulos We can all be heroes. That's the inspiring message of this New York Times Bestselling picture book biography series from historian and author Brad Meltzer. Even as a child, Martin Luther King, Jr. was shocked by the terrible and unfair way African-American people were treated. When he grew up, he decided to do something about it—peacefully, with powerful words. He helped gather people together for nonviolent protests and marches, and he always spoke up about loving other human beings and doing what's right. He spoke about the dream of a kinder future, and bravely led the way toward racial equality in America.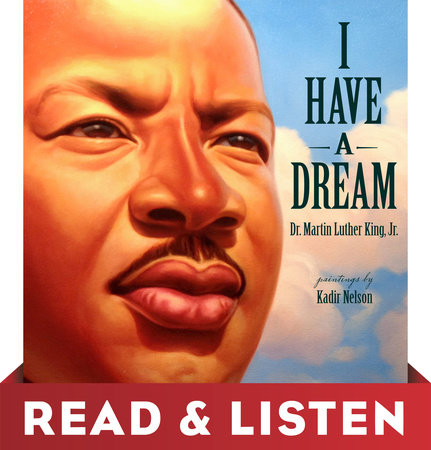 I HAVE 
A 
DREAM
 (Book & CD) by Dr. Martin Luther King, Jr., Kadir Nelson A Coretta Scott King Illustrator Honor Book From Dr. Martin Luther King, Jr.'s daughter, Dr. Bernice A. King: "My father's dream continues to live on from generation to generation, and this beautiful and powerful illustrated edition of his world-changing "I Have a Dream" speech brings his inspiring message of freedom, equality, and peace to the youngest among us—those who will one day carry his dream forward for everyone. For more information on these and related titles visit the collection:
MLK Jr.
---
There's a Book for That! 
is brought to you by Penguin Random House's Sales department. Please follow our Tumblr by clicking 
here
—and share this link with your accounts: 
theresabookforthat.tumblr.com
. Thank you! Did you see something on the news or read about something on your commute? Perhaps you noticed something trending on Twitter? Did you think: "There's a book for that!"? Then please, send it our way at 
theresabookforthat@penguinrandomhouse.com