Marion Garner
March 13, 2019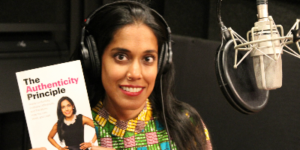 Penguin Random House's audiobook business is an essential pillar of our global growth strategy for 2019 and beyond. Read on for an interview with Marion Garner who oversees Audio at Penguin Random House Canada. 
Q: PRH Canada launched an audio division in 2017. What were your first steps toward building a successful audiobook business and what are your goals for the next few years?
A: When Audible and Kobo announced their plans to launch digital audiobook sites in Canada we quickly leapt into action. Having the great resource of our U.S. colleagues at PRH Audio was a huge advantage. The advice they provided as to what kind of human resources and technical help we needed was priceless. And we were able to find the right people, especially Ann Jansen, our Director of Audiobook Production, who came with extensive experience in radio and audiobooks after years with the CBC (Canadian Broadcasting Corporation), alongside studios in Toronto and across the country willing to step into this uncharted territory.
expand
Now, with an in-house team and studio, a host of resources across the country, and a great set up with ACTRA (Alliance of Canadian Cinema, Television and Radio Artists), we are well established and capable of producing titles everywhere. The generosity and expertise of our U.S. and UK colleagues from their more established markets has been invaluable. In the future, we hope to expand our productions to include more of our children's publishing and to offer our services to outfits in Canada that aren't equipped to produce their own audiobooks. Right now there's great excitement from authors, agents, and the public around our Canadian recordings, and the promise of more growth.
Q: How does your extensive publishing background translate to audio?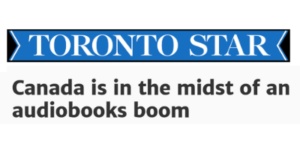 A: As someone whose entire career has been firmly based in print publishing, the idea of taking on audiobooks was daunting. While they are completely separate specialties, the principles are similar. Understanding how a book is made and the timelines involved in getting final print pages turned into an audiobook are crucial. My scope of knowledge allowed for forgiveness and understanding as well as being able to be realistic about what's possible. After working with so many of our authors over the years, it's been inspiring to honour their work in a new way, and to help them to reach new audiences. It has been an amazing education and opportunity to learn and create a whole new format for our books in a market which had previously been dormant.
Q: SPLIT TOOTH was nominated for an Audie Award, making it PRH Canada's first-ever nomination.  Can you talk about the experience and process of creating this audiobook, which became a sensation partly due to laryngeal singing in the Inuit language performed by the author?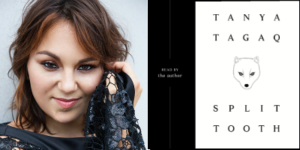 A: 
SPLIT TOOTH
is Inuk throat singer Tanya Tagaq's first book and it is a story full of power, pain, laughter and love. Her voice is a tremendous instrument and it was clear from the beginning that she would record the audiobook, but it was a new experience for her, very different from her previous performing and music recording. Producer and director Ann Jansen and co-director Beverley Cooper worked with Tanya to find ways to keep her connection with the text while making sure the storytelling was immediate and intimate. Spontaneity ruled during the taping, and the team experienced moments of laughter in addition to poignant, powerful moments where trauma was addressed and acknowledged. Recording engineer and sound mixer Caleb Stull worked with Tanya's extremely dynamic delivery in recording, as she moved from whispers to high volume—often very swiftly. And at the end of recording, we were gifted with her improvised singing, pieces which help transition the listener between the poetic and prose sections. The audiobook also includes a song from her band, in place of a passage from the book with syllabics from Tanya's mother tongue. We feel the audiobook makes the most of the medium, and is as raw and elemental, as lyrical and spiritual as the artist's music. And the publicity and marketing team found creative ways to support the audiobook, including a powerful short video with images from the book by artist Jaime Hernandez, animated to the rhythms of Tanya reading the title poem. It was a privilege for all of us to work with this amazing artist to help capture a story that is like no other we have recorded.