movies
September 22, 2016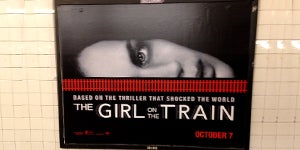 Get your popcorn ready. Two weeks to go before the film adaptation of THE GIRL ON THE TRAIN hits theaters everywhere on Friday, October 7. Since going on sale from Riverhead Books last year, this "train" engineered by author Paula Hawkins has been unstoppable, approaching 6 million copies sold in the US.   THE GIRL ON THE TRAIN was an instant #1 New York Times bestseller in all formats, including hardcover, trade paperback, mass market, and eBook, for a grand total of 88 weeks and counting on the NYT lists.
expand
Advance film buzz is reaching a fever pitch, with outlets such as People, The New York Times,NPR, USA Today, and Entertainment Weekly declaring it "the must-watch film for the fall."  All coverage keeps Paula Hawkins and the book front and center. Still to come: Paula and the film's star Emily Blunt will appear on NBC's Today Show and will be on the cover of The Hollywood Reporter. THE GIRL ON THE TRAIN movie poster on New York City subway platform walls includes this tag line: "Based on the Thriller That Shocked the World." THE GIRL ON THE TRAIN filmgoers' mantra: "See the movie. Read the book." Watch the trailer: https://youtu.be/y5yk-HGqKmM
September 8, 2016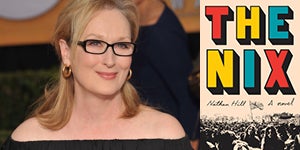 Nathan Hill's acclaimed, bestselling debut novel THE NIX, published by Knopf last week, will be adapted into a new television series starring and produced by Meryl Streep with JJ Abrams (Star Wars: The Force Awakens) for Warner Bros Television. "The news broke on Deadline this morning and is currently lighting up both coasts," reports Paul Bogaards, Executive Vice President, Knopf Doubleday Publishing Group.
expand
A story about a son, the mother who left him as a child, and how his search to uncover the secrets of her life leads him to reclaim his own, THE NIX has all of the elements that will make for "must-see TV."