national family literacy month
November 28, 2017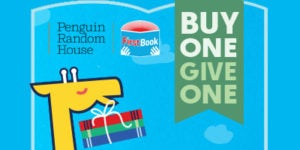 Penguin Random House is helping zulily kick off National Family Literacy Month this November with its first-ever interactive book fair, running now through December 10. Six sales events will feature a curated selection of children's books, and each book purchased will trigger a donation from Penguin Random House to First Book. First Book, a nonprofit social enterprise that provides new books and other essentials to children in need, is aiding teachers, students and schools affected by the recent hurricanes.
expand
"Penguin Random House is committed to fostering a universal passion for reading and providing access to books in the communities and schools of parents and children who need them most. Through our partnership with zulily we're able to expand and extend our ongoing relief efforts through our longtime partner, First Book, by providing up to 25,000 books during this important time of need," said Jaci Updike, President of Sales of Penguin Random House U.S. "We recognize that many of our customers know someone or have been personally affected by the devastation incurred from the hurricanes this year," said Kerry Gibson-Morris, VP of Home, Hardlines & Licensing at zulily. "We understand that these major storms can disrupt children's learning and academic performance, and through our partnership with Penguin Random House and support of First Book, we hope we can provide children, teachers and schools the tools to succeed during these challenging recovery times." "Educators have shared heart-breaking stories of students, families and fellow teachers who have lost their homes and belongings, as well as entire school libraries now destroyed by flooding or mold," said Kyle Zimmer, president and CEO of First Book.  "The support of zulily, zulily's customers and Penguin Random House will bring treasured books to these communities, enabling educators to restore learning in their classrooms, and providing a lifeline of hopes and dreams for students and their families.  It means the world to all of us." Customers can shop the ongoing interactive book fair via the "Buy One, Give One" badge highlighted on the website and on featured books found in select events. Each week zulily fans can visit zulily's owned social channels to activate a call to action, through comments or shares to spark the "Give One" donation from Penguin Random House to First Book. For example, a donation will be made when fans comment on zulily's Facebook post about their favorite childhood stories. Penguin Random House will also donate 50,000 additional books to First Book this month through its 
Giving Tuesday #Giveabook campaign,
which gives readers the chance to donate up to 5 books to local communities nationwide, including those impacted by recent hurricanes.