new york times
April 16, 2018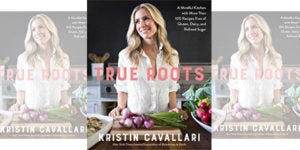 The Crown Publishing Group is celebrating an historic milestone: its first New York Times bestseller since the venerable wellness publisher became an imprint within its division earlier this year. Rodale Books' TRUE ROOTS by Kristin Cavallari debuts at #3 on the NYT April 22 Advice, How-to, and Miscellaneous list.
expand
Cavallari is a popular television personality whose previous
NYT
bestseller, BALANCING IN HEELS, focused on sharing what she has learned from her personal journey. Her newest, subtitled "A Mindful Kitchen with More than 100 Recipes Free of Gluten, Dairy, and Refined Sugar," presents her approach to enjoying a toxin-free, healthy diet. The book was published by Rodale on April 3, was the #1 overall Nielsen Bookscan nonfiction title in its first week on sale, and is #1 on the April 16
Publishers Weekly
overall bestseller list.
Rodale Books' Adult nonfiction publishing program is part of Crown's Illustrated and Lifestyle division, whose other imprints are Clarkson Potter, Ten Speed Press, and Harmony Books.
Aaron Wehner
, who oversees the division as Publisher, described this occasion as "really thrilling," adding that "special notice is due to several of our new colleagues--editor Dervla Kelly, originating publisher Gail Gonzales, and marketer
Brianne Sperber
—with a big assist from the Harmony team under
Diana Baroni
, Vice President, Associate Publisher, Editorial Director, who is also responsible for Rodale Books. TRUE ROOTS is a terrific book, published by a terrific team, and it should continue to roll."