One Book One New York
April 2, 2018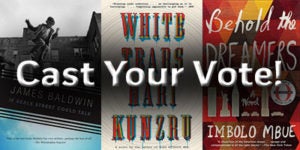 The Mayor's Office of Media and Entertainment this morning launched this year's "One Book, One New York," the exciting citywide initiative that brings book-loving New Yorkers together to read the same book at the same time.  Among the five finalists are three books published by Penguin Random House imprints: 
expand
IF BEALE STREET COULD TALK
by James Baldwin
(Vintage)
WHITE TEARS
by Hari Kunzru
(Vintage)
BEHOLD THE DREAMERS
by Imbolo Mbue
(Random House) Building on the enormous success of the program's inaugural year in 2017, this year's campaign, in partnership with New York Magazine and Vulture, New Yorkers get to vote for one of five books all through the month of April . We encourage all Penguin Random House colleagues to vote for their favorite title 
here
. Media and Entertainment Commissioner Julie Menin said, "We are enormously excited to present the five books in contention for this year's One Book, One New York program. These beautifully told tales reflect the rich variety of experiences and voices that make New York's literary culture second to none. We hope once again that One Book, One New York will inspire great conversations, foster compassion in difficult times, support our vital publishing industry, and spur New Yorkers to rediscover their local libraries and neighborhood bookstores." Hari Kunzru, author of WHITE TEARS, said, "In the last decade, I've made a life in New York. I got married in the courthouse downtown, my children were born here. To be part of One Book is extraordinary. It makes me feel welcomed. It makes me very proud." "BEHOLD THE DREAMERS is, among many things, a love song to my adopted hometown of New York City, so it is a tremendous privilege for me, that it is being consider for One Book, One New York," said author Imbolo Mbue. "From my earliest days as an undergraduate student, James Baldwin's life and work have provided a guiding force that has given me the courage to pursue work that has meaning and social impact," said Barry Jenkins, writer/director of the film adaption of If Beale Street Could Talk. "With If Beale Street Could Talk, my favorite author renders the city and neighborhood that raised him in unflinching detail and with endless empathy and grace." On Thursday, April 19 at 7:00 p.m., the four living nominated authors as well as director Barry Jenkins (
Moonlight
), who is making a film of the late James Baldwin's IF BEALE STREET COULD TALK, will join a panel discussion as part of the Pen America World Voices Festival. Held at The New School's auditorium in the Alvin Johnson/J.M. Hall, the event is free and open to the public on a first come, first served basis. After the month-long voting period, the winning book will be announced in early May. Once the winning book is picked, New Yorkers can look for events at their local libraries and throughout the city that will keep the discussion going all summer long.