oscars
February 10, 2020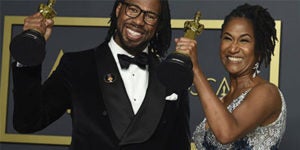 HAIR LOVE, Matthew A. Cherry's bestselling children's book for Kokila that was conceived as an animated short film, won the Oscar for Best Animated Short Film at last night's 92nd annual Academy Awards ceremony in Los Angeles.  A tender and empowering ode to loving your natural hair, and a celebration of daddies and daughters everywhere – HAIR LOVE was transformed into a bestselling children's book, written by Cherry, a former NFL wide receiver, and illustrated by Vashti Harrison, published in May 2019 by Penguin Young Readers' Kokila Books imprint.
expand
In accepting his Oscar, Cherry said, "HAIR LOVE was done because we wanted to see more representation in animation; we wanted to normalize black hair … This award is dedicated to Kobe Bryant.  May we all have a second act as great as his was." The late Los Angeles Lakers legend was the first African American and only other former professional athlete to win a Best Animated Short Film Oscar, which Bryant received in 2018 for
Dear Basketball.
HAIR LOVE was directed by Cherry and produced by Karen Rupert Toliver.  The film's team of animators included Everett Downing Jr. (
Up, WALL-E
) and Bruce W. Smith (
The Proud
Family
), Peter Ramsey (
Spider-Man: Into the Spider-Verse
) and Frank Abney (
Toy Story 4
). Our congratulations to Mr. Cherry, our colleagues at Kokila and Penguin Young Readers, and everyone involved with the creation of HAIR LOVE.