Portfolio
March 12, 2018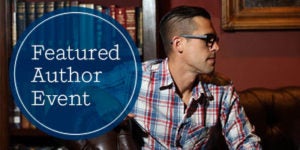 Westminster colleagues take note: Portfolio author Ryan Holiday will be at Politics & Prose bookstore in Washington, D.C. on Friday, March 16, at 7:00 p.m. to talk about his new book, CONSPIRACY: Peter Thiel, Hulk Hogan, Gawker, and the Anatomy of Intrigue.  Examining the case that rocked the media world, and the billionaire mastermind behind it, Holiday's narrative is part cyber-era true-crime and part complex, thought-provoking investigation of questions of privacy and power in the digital age. 
expand
Holiday chronicles the chain of events that led to the fall of Gawker, which filed for bankruptcy in 2016. The company's problems seemingly began in 2012, when, citing the First Amendment, Gawker founder Nick Denton refused to take down an illegally recorded video of Hulk Hogan with the estranged wife of a radio personality.  Hogan filed suit, claiming violation of his privacy rights, and was awarded $140 million. As Gawker shut down, Peter Thiel, the PayPal founder and venture capitalist, revealed that he had financed several lawsuits against Gawker, including Hogan's, determined to get revenge on Gawker for having outed him as gay in 2007.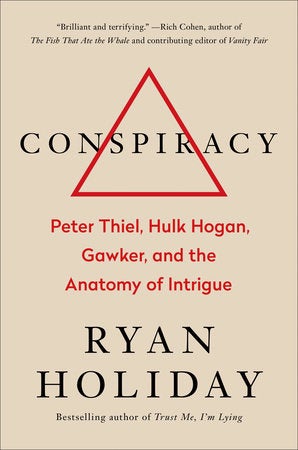 In Holiday's masterful telling of this nearly unbelievable conspiracy, informed by interviews with all the key players, this case transcends the narrative of how one billionaire took down a media empire or the current state of the free press.  It's a study in power, strategy, and one of the most wildly ambitious–and successful–secret plots in recent memory. Holiday is also the bestselling author of TRUST ME I'M LYING: Confessions of a Media Manipulator, PERENNIAL SELLER: The Art of Making and Marketing Work that Lasts, and THE DAILY STOIC: 366 Meditations on Wisdom, Perseverance and the Art of Living.  After dropping out of college at 19 to apprentice under Robert Greene, author of 
The 48 Laws of Power,
Holiday went on to advise many bestselling authors and multiplatinum musicians, and served as director of marketing at American Apparel.
May 3, 2017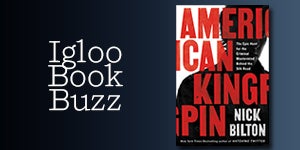 This week's Igloo Book Buzz selection is Nick Bilton's AMERICAN KINGPIN: The Epic Hunt for the Criminal Mastermind Behind the Silk Road, "the unbelievable true story of the man who built a billion-dollar online drug empire from his bedroom—and almost got away with it." Portfolio published the book on May 2, and Mr.
expand
Bilton reveals, "I've been covering technology for over 15 years, writing about the infighting at Twitter, the deceit at Theranos, billionaires lying and stabbing their co-founders in the back, government hackers, and the vast societal effects of everything from driverless cars to drones. "Yet when I set out to report AMERICAN KINGPIN, I had no idea how scandalous the story would become. To me, I thought it was just setting out to the tale of an overly-ambitious kid from Texas who had lost his way.  It quickly became clear that this book was about so much more, encompassing stories of cops turning into bad guys, of murders commissioned on the Internet, guns, drugs, poisons and the potential sale of body parts on the Silk Road website, and of hundreds of millions of dollars in digital currencies. In the end, the story is without question the most terrifying and inconceivable I have ever worked on." [caption id="attachment_6033" align="alignright" width="270"]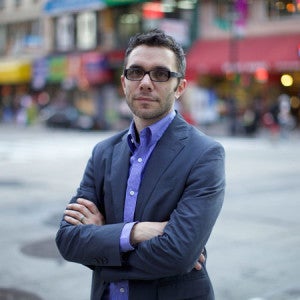 Nick Bilton[/caption] Portfolio Editorial Director 
Niki Papadopoulos
, who edited the book, says, "I knew that Nick Bilton was a phenomenal writer from working with him on 
Hatching Twitter,
 his first book with Portfolio. So my expectations were already high. But I still wasn't prepared for the manuscript he delivered for AMERICAN KINGPIN. I read it overnight and was late to the office the next day–I couldn't put it down, even though from conversations with my author I already knew how it was going to end! What makes this book exceptional is what isn't in it. Nick conducted thousands of hours of research and analyzed two million words that Ross left behind him. Obviously not all of that material could make it into the final manuscript, and so the choices Nick made of what to include and how were paramount. I think he made the right ones, and all the enthusiastic early reads we've had confirm that hunch." AMERICAN KINGPIN has been generating a lot of buzz in the media and the author community. Here is sampling of the praise:
"Engrossing… Bilton writes in a breezy, colloquial style … A fast-paced, readable true-crime tale that frames the likely future of the underground economy."  –Kirkus Reviews
"Cinematic… a page turner with a clever (and subversive) framing."  — Bloomberg Businessweek
"AMERICAN KINGPIN is both a staggering feat of investigative journalism and a triumph of edge-of-your-seat storytelling. This is what true-crime writing should be." —Bryan Burrough, author of Days of Rage
"In AMERICAN KINGPIN, Nick Bilton again proves why he's one of tech's best storytellers with a stunningly researched and very scary portrait of the creator of a marketplace gone mad, and the oddly uncoordinated officers who took him down." —Steven Levy, author of Hackers and In the Plex