Prima Games
May 8, 2018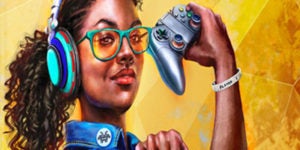 DK imprint Prima Games, the world's leading publisher of strategy content for PC and console video games, has announced the forthcoming publication of WOMEN IN GAMING: 100 Pioneers of Play, a celebratory look at accomplished women in the video game industry. On sale November 6, 2018, WOMEN IN GAMING is the first title from Prima Games' new Gaming and Pop Culture line, which focuses on publishing that is entertaining as well as educational. Eight titles will come out later this year, including officially licensed Pokémon Readers, with more publishing slated for 2019.
expand
Mike Degler
, VP & Publisher of Prima Games: "We are thrilled to formally introduce our new Gaming and Pop Culture publishing line and we couldn't be more excited to kick it off with WOMEN IN GAMING. We have worked with so many creative and intelligent women over the past 25 years, and this book is the perfect way to recognize their groundbreaking efforts in the gaming industry. The book showcases a highly diverse group of women and features real-world advice that is informative and entertaining for all ages."
WOMEN IN GAMING illustrates how women have played—and will continue to play—important roles in the burgeoning video game industry. Containing interviews with 100 prominent and influential women, ranging from high-level executives to programmers to pro-gamers, Women in Gaming aims to highlight their impact on the gaming industry and reveal their lessons learned in the workplace. Some of the notable women featured in WOMEN IN GAMING include:
Ashly Burch
: Emmy-winning writer and voice actress;
Carol Shaw
: Early industry programmer, designer, and Industry Icon award recipient;
Tracy Fullerton
: Designer and director of USC Game Innovation Lab;
Amy Hennig
: Senior creative director and Writers Guild of America award winner
; Emily Greer
: Cofounder and CEO of Kongregate;
Perrin Kaplan
: Former vice president of marketing for Nintendo of America;
Jane Ng
: Senior game artist at Campo Santo;
Patricia Vance
: Longtime ESRB president and founder of the International Age Rating Coalition;
Karisma Williams
: Xbox and Oculus VR Senior UI/UX Designer; and
Rebecca Heineman
: Programmer and founding member of Interplay Productions In addition to profiles, several contributors also penned essays that further illuminate topics affecting women in gaming-related careers, including "Difficult Women: The Importance of Female Characters Who Go Beyond Being Strong," "NPC: On Being Unseen in the Game Dev Community," and "Motherhood and Gaming: How Motherhood Can Help Rather Than Hinder a Career." Bonus features include a "A Day in the Life of" section, which provides an inside look at a typical day in the gaming industry across several vocations, including a streamer and a voice actor, and a "Character Spotlight", which highlights favorite women game characters and their significance in popular gaming culture. WOMEN IN GAMING is authored by
Meagan Marie
, an industry veteran currently serving as senior community & social media manager at Crystal Dynamics, focused on the Tomb Raider franchise. The foreword writer for WOMEN IN GAMING will be announced at San Diego Comic-Con this July.