Ridenhour Book Prize
March 26, 2018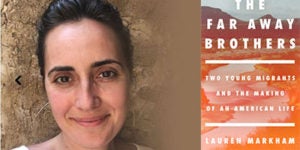 Lauren Markham, author of THE FAR AWAY BROTHERS: Two Young Migrants and the Making of an American Life (Crown), has won the 2018 Ridenhour Book Prize, among the awards given annually for the past 15 years to extraordinary individuals "who persevere in the act of truth-telling that protect the public interest, promote social justice, or illuminate a more just vision of society," by the Nation Institute, Fertel Foundation, and Stewart R. Mott Foundation.  
expand
These prizes memorialize the spirit of fearless truth-telling that whistleblower and investigative journalist Ron Ridenhour reflected throughout his extraordinary life and career. Ridenhour exposed the horrific My Lai massacre of the Vietnam War to the public, and today, the Ridenhour Prizes continue to honor his important legacy of speaking truth to power. In THE FAR AWAY BROTHERS, Markham tells the story of identical twin brothers, Ernesto and Raúl Flores, who grew up in rural El Salvador in the aftermath of its civil war. In Markham's look at contemporary immigration and the migrant experience, she provides a nuanced portrait of Central America's child exodus, and critiques American immigration policy. To view a complete list of 2018 Ridenhour Prize winners, click
here
. This year's Ridenhour awards ceremony will be held at the National Press Club in Washington, D.C., on April 18, and hosted by Danielle Brian, executive director of the Project on Government Oversight (POGO).