roar for change
May 17, 2018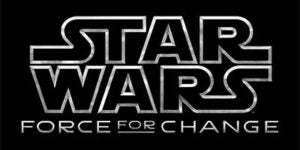 DK recently participated in Roar For Change, a global challenge organized by Lucasfilm and Star Wars: Force for Change in support of UNICEF. The initiative invites fans and families to share their own version of Chewbacca's iconic roar. For each public post, like, or share on Facebook, Instagram or Twitter that includes #RoarForChange through May 25, Star Wars: Force for Change U.S. will donate $1 to UNICEF USA, up to $1 million. Funds will be used to support UNICEF's lifesaving work for children around the world.
expand
Fans can share their best Chewbacca impersonation, don Hasbro's Electronic Chewbacca mask, or create a Dubsmash using one of Chewbacca's best-known roars from the
Star Wars
saga, which will be hosted on the app's homepage for the duration of the campaign. The initiative kicked off with a
video
featuring the cast of
Solo: A Star Wars Story
, revealing Chewbacca's diva behavior on the set of the new movie, which hits theaters on May 25. Check out DK's video
here.
DK invites PRH Star Wars enthusiasts to join the #RoarForChange challenge and support this worthy cause. Learn more about the campaign at
ForceForChange.com
. *
Campaign hashtag
: #RoarForChange
Star Wars: Force for Change
, a charitable initiative from Lucasfilm and Disney,
harnesses the strength of
Star Wars
to empower and improve the lives of children around the world. Since 2014 when it was inspired by
Star Wars
fans,
Star Wars: Force for Change
has raised over $16 million to date for charitable causes around the world.