#ShareTheLaughter
September 14, 2017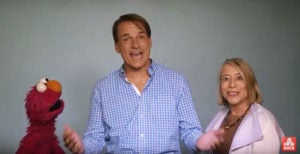 The world needs a little more kindness these days, and in 2017 Elmo has resolved to spread as much as he can all year long with "Spread Kindness, #ShareTheLaughter," a global multimedia campaign initiated by Sesame Workshop.  Elmo launched his challenge by telling a joke on the TODAY Show, and our very own CEO Markus Dohle and Barbara Marcus, President and Publisher of Random House Children's Books, followed with their own video.  Watch it below:
expand
https://www.youtube.com/watch?v=4IoR7O3P2wo The #ShareTheLaughter challenge invites social media users to share a video of themselves telling their best joke to their social pages, and challenge a few of their friends to tell a joke and continue the challenge.
We encourage you to accept Elmo, Markus and Barbara's challenge and share a joke using the hashtag #ShareTheLaughter
, which has already garnered over 24 million impressions since the campaign was announced on August 16, National Tell-a-Joke Day.
Penguin Random House Digital Video
produced the Markus, Barbara and Elmo video.  Our digital video team also produces
Brightly Storytime
, the monthly picture book read-along video series, in which Ms. Linda reads some of Brightly's favorite books.  In the newest episode, released this week, Elmo came in to co-host and help Ms. Linda warm up with a few tongue twisters before she read
ELMO'S TRICKY TONGUE TWISTERS
(Random House Children's Books).  Watch the new Brightly Storytime video: https://www.youtube.com/watch?v=sP8NiBI-vD0