Spotlight
March 2, 2018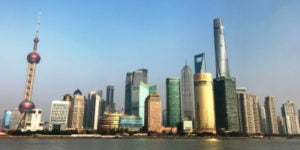 Our On Sabbatical series is back! This time with Gerry Bondoc, Desktop Support Analyst in NYC. Read on to see how Gerry spent his sabbatical traveling to 11 cities and 5 countries in Asia this winter.
expand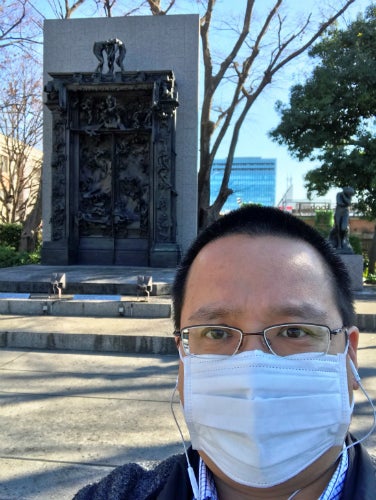 Where did you go and what kind of "to-do" list did you have?
I went to all these cities for the first time: – Hong Kong – Taipei – Singapore – Tokyo – Osaka – Kobe – Kyoto – Seoul – Beijing – Shanghai – Macau I stayed anywhere from two to five nights, but I only made day trips to Kobe and Macau.  I flew from NYC to and from Hong Kong, so I stayed there and Tokyo twice.  My "to do" list comprised of (1) walking as much as I could through downtown areas, (2) sampling local, if not outlandish, food, (3) hitting up museums, (4) trying to see daily life in these huge cities.  I like "touristy" things such as going up skyscraper observatories and checking out local markets or just staring at a memorable skyline.
What was involved in planning and deciding how to spend your sabbatical?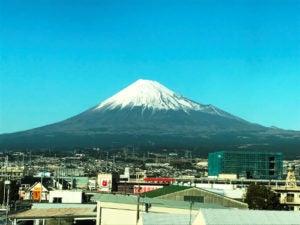 I had decided to visit these places about two years ago.  I was first eligible for sabbatical in early 2017, but my work schedule didn't permit it, so I postponed things a year to early 2018.  I actually flew out on Dec 23
rd
 just as our week off for the holidays began, and my manager let me take a week of regular vacation at the end of Jan into early Feb to enable me to be out for six weeks.  I wanted to squeeze in Sydney, Melbourne and Auckland, but shortening each city's stay and the extra 24 hours of travel time wouldn't have been worth the effort. The planning was a bit of a headache.  I knew I would be traveling alone, so I had some  flexibility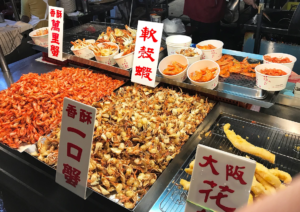 with the departure, arrival and length of stay, but I also knew the moment I booked the flights that I'd have to reserve the hotel rooms, and that translated to 41 nights in 11 hotel stays.  After mulling things over for months and checking airfares almost nightly, I finally booked everything the first weekend in October.  Soon after booking everything is when I bought the website and domain for my food blog, 
The Food Doof
.   While I think the food write-ups are amateurish and inane, though honest, there are some decent photos and videos posted on there.  I'll try to maintain it for future food-and-travel sojourns. I also packed as lightly as I could, bringing only about four days of clothes.  I wanted my luggage as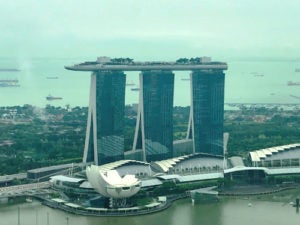 a carry-on bag because I knew that would enable me to leave the airport as soon as I cleared customs.  Not having to wait at the baggage conveyor belt probably saved me 30 minutes at each of the nine airport arrivals.  And it wasn't too inconvenient to do laundry twice a week, I guess.
What book(s) did pack for your trip?
I finished a biography on the famed conductor, Herbert von Karajan, on the flight from JFK to Hong Kong.  It was hard cover and because I was packing so lightly, it couldn't fit in my backpack.  So I left it at the airport when I arrived.  I also had a paperback copy of Anthony Bourdain's "A Cook's Tour," but I didn't read it.
What will be some of your most enduring memories of this sabbatical?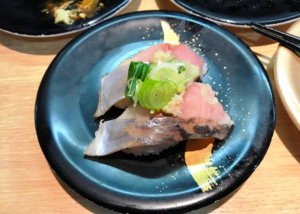 I was glad to see with my own four eyes that each of these cities was loaded with masses of regular commuters who are working stiffs like so many of us on this side of the world.  It was also a little eerie being functionally illiterate and mute most of my time there since I only speak English.  But that helped keep me alert, I think.  And while I didn't know anyone going into any of these places, I did meet a few people while dining alone, and I'm glad to have kept in touch with them.  The food was dynamite at almost all of my destinations, but I knew that part of the trip was really just an excuse to head out there and visit.  The walking around, the sightseeing, the people watching proved much more memorable.  Well, there were three or four meals that were out of this world….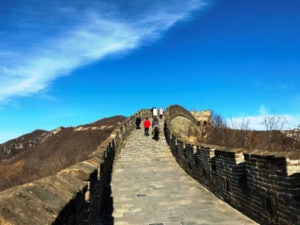 As for specific memories, the night I went to the symphony at Tokyo's Suntory Hall was pretty neat.  Before the conductor came out, there was a standing ovation given to Emperor Akihito and Empress Michiko as they walked out slowly to the front of the balcony.  There were as close as 15' away from me while there on the walkway.  I asked the woman to my right as they walked in, "isn't that the Emperor?"  She replied, "sorry, I don't speak English."  We Americans, I tell ya….  Anyhow, the couple were greeted with another huge ovation as they departed at the start of intermission.  It's unfortunate they didn't stay for the second half as that had the more famous music!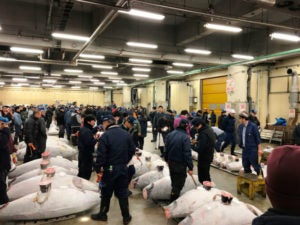 Let's see…the trip to the Great Wall while in Beijing was also very cool, and though it was cold that day, I lucked out with blue skies.  Also, my last day in Tokyo I was able to attend a tuna auction at the Tsukiji Fish Market, the world's largest.  If I had $70,000 handy, I would've taken off my visitor's vest and snuck in to purchase one, but I wouldn't have been able to "make sure the item was tucked away firmly in the overhead compartments or underneath the seat in front of me."