St. Jordi Day
April 21, 2017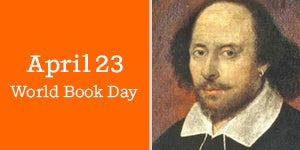 Sunday, April 23, is a symbolic date for books and literature the world over when readers everywhere join together in a celebration of books and reading. Read on to find out how.
expand
World Book Day
April 23, 1564, is the day English poet, playwright, and actor William Shakespeare was born. Fifty-three short years later, also on April 23, 1616, the playwright died. For this reason, among others, it was a natural choice for UNESCO to create World Book Day to pay a world-wide tribute to books and authors on this day. Learn more about World Book Day
here
.
#ProjectReadathon
In the U.S, Canada and Mexico, we're celebrating World Book Day with #ProjectReadathon, the one-week reading and giving initiative. As of April 17, readers have been visiting the specially created
online reading platform
and reading timed excerpts from our books and authors to trigger book donations to Save the Children. We are excited to announce that with over 800,000 minutes of reading so far, we are well on our way to our one million minutes goal.
St. Jordi Day
In Spain's Catalonia region, World Book Day is marked by roses, books, and lovers. On St Jordi Day, the people of Catalonia celebrate the day of their patron saint, Sant Jordi, with a unique tradition. On 23 April, couples exchange gifts: a book for the men and a rose for the women. Book and flower stalls are set up along the streets of Barcelona for a vibrant celebration. Learn more about St. Jordi Day
here
.
World Book Night
In the U.K., World Book Night takes place on April 23. The national celebration of reading and books is run by The Reading Agency, a national charity that inspires people to become confident and enthusiastic readers. Learn more about World Book Night
here
.
We hope you will join us in a global celebration of books and reading on April 23.