Star Wars
May 17, 2018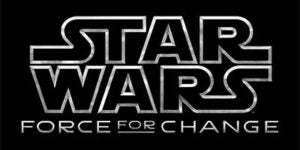 DK recently participated in Roar For Change, a global challenge organized by Lucasfilm and Star Wars: Force for Change in support of UNICEF. The initiative invites fans and families to share their own version of Chewbacca's iconic roar. For each public post, like, or share on Facebook, Instagram or Twitter that includes #RoarForChange through May 25, Star Wars: Force for Change U.S. will donate $1 to UNICEF USA, up to $1 million. Funds will be used to support UNICEF's lifesaving work for children around the world.
expand
Fans can share their best Chewbacca impersonation, don Hasbro's Electronic Chewbacca mask, or create a Dubsmash using one of Chewbacca's best-known roars from the
Star Wars
saga, which will be hosted on the app's homepage for the duration of the campaign. The initiative kicked off with a
video
featuring the cast of
Solo: A Star Wars Story
, revealing Chewbacca's diva behavior on the set of the new movie, which hits theaters on May 25. Check out DK's video
here.
DK invites PRH Star Wars enthusiasts to join the #RoarForChange challenge and support this worthy cause. Learn more about the campaign at
ForceForChange.com
. *
Campaign hashtag
: #RoarForChange
Star Wars: Force for Change
, a charitable initiative from Lucasfilm and Disney,
harnesses the strength of
Star Wars
to empower and improve the lives of children around the world. Since 2014 when it was inspired by
Star Wars
fans,
Star Wars: Force for Change
has raised over $16 million to date for charitable causes around the world.
December 15, 2017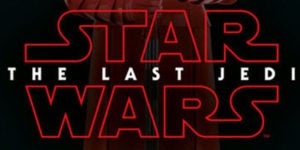 The legion of Star Wars fans can rejoice. Not only does The Last Jedi movie premiere, at last, this weekend, but our DK Publishing and Ballantine/Del Rey/Lucas Books imprints are releasing a raft of new specially created tie-in books with Lucasfilm Ltd. to enjoy before and long after their attendance.  
expand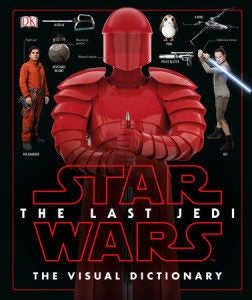 STAR WARS: The Last Jedi: The Visual Dictionary  by Pablo Hidalgo (DK, 12/15)
This definitive guide to
Star Wars: The Last Jedi
introduces the characters, creatures, droids, locations, and technology from the new film. Packed with 100+ images and information as penned by Star Wars scribe Pablo Hidalgo, who helps ensure consistency across a wide array of Star Wars projects, it's a must-have for all fans who want to go beyond the movie experience. Pablo has written several DK titles, including STAR WARS: Rogue One: The Ultimate Guide.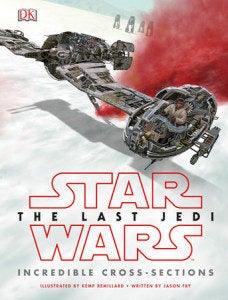 STAR WARS: The Last Jedi: Incredible Cross-Sections by Jason Fry, illustrated by Kemp Remillard (DK, 12/15)
STAR WARS: The Last Jedi: Incredible Cross-Sections goes inside—literally—to show the inner workings of 13 vehicles from the movie. Each vehicle is illustrated in full-color by famed artist Kemp Remillard, complete with callouts by author Jason Fry to all the pertinent features of each ship. Accompanying comprehensive text make this one of the best reference guides for the new craft in the Star Wars galaxy.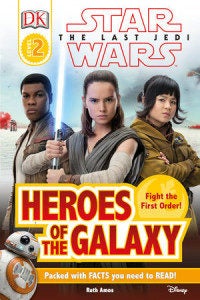 K Reader L2: STAR WARS: The Last Jedi: Heroes of the Galaxy  by Ruth Amos (DK, 12/15)
DK Reader L2: STAR WARS: The Last Jedi: Heroes of the Galaxy is a 48-page reader penned by DK Editor Ruth Amos, aimed at helping every child progress and become a confident reader. The story narrative is supported with interactive genre spreads and questions to encourage children to access information from a range of sources and develop comprehension skills.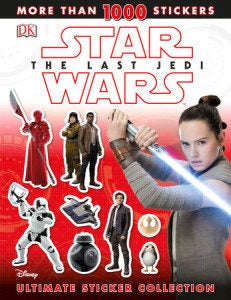 STAR WARS: The Last Jedi: Ultimate Sticker Collection  by David Fentiman (DK, 12/15)
The weird, wonderful, exciting world of STAR WARS: The Last Jedi comes alive with this Star Wars: The Last Jedi: Ultimate Sticker Collection. Featuring more than 1,000 stickers of new characters, creatures, aliens, droids, and ships, as well as free-stick pages to create new scenes, this Ultimate Sticker Collection will keep fans entertained for hours.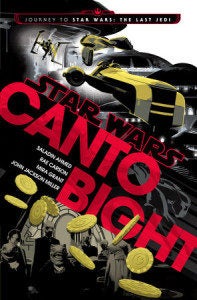 STAR WARS: CANTO BIGHT – Journey to Star Wars: The Last Jedi by Saladin Ahmed, Rae Carson, Mira Grant and John Jackson Miller (Del Rey, 12/5)
Soon to be seen in 
Star Wars: The Last Jedi,
welcome to the casino city of Canto Bight. A place where exotic aliens, captivating creatures, and other would-be high rollers are willing to risk everything to make their fortunes. Set across one fateful evening, these four interconnected stories explore the deception and danger of the lavish casino city.  In Canto Bight, one is free to revel in excess, untouched from the problems of a galaxy once again descending into chaos and war. Dreams can become reality, but the stakes have never been higher—for there is a darkness obscured by all the glamour and luxury.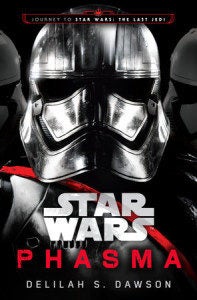 STAR WARS: PHASMA – Journey to Star Wars: The Last Jedi  by Delilah S. Dawson (Del Rey, 9/1)
Discover Captain Phasma's mysterious history in this "Journey to Star Wars: The Last Jedi" novel. One of the most cunning and merciless officers of the First Order, Captain Phasma commands the favor of her superiors, the respect of her peers, and the terror of her enemies. But for all her renown, Phasma remains as virtually unknown as the impassive expression on her gleaming chrome helmet. Now, an adversary is bent on unearthing her mysterious origins—and exposing a secret she guards as zealously and ruthlessly as she serves her masters.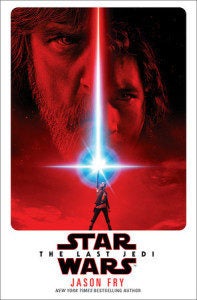 STAR WARS: The Last Jedi by Jason Fry (Del Rey, to be published 3/6/18)
Rey continues her epic journey with Finn, Poe, and Luke Skywalker in this exclusive novelization of the new film, 
STAR WARS: The Last Jedi.
MAY THE FORCE BE WITH OUR STAR WARS AUTHORS AND PUBLISHERS.