summer reads
August 18, 2016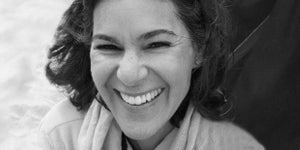 Doris Cooper, Vice President, Associate Publisher, Clarkson Potter, shares her favorite summer reading rituals, exciting upcoming titles from Clarkson Potter, and her top summer reads of all time. Get inspired by Doris' summer reading recommendations and find out about hot new cookbooks.
expand
What are your favorite summer reading rituals?
When I'm on vacation, I love waking up in the morning and reading before I get out of bed. Picking up my book, right where I left off the night before, and not having the usual get-dressed-make-breakfast-make-lunch-get-out-the-door extravaganza ahead of me is a luxury. I also love a pilgrimage to the Montague Book Mill, a rambling used bookstore off of Route 63 in Western Massachusetts. It's set on the banks of the Sawmill River, and the peace of the place is enhanced by the creaky floor-boards. Their motto is "Books you don't need in a place you can't find."
What are some of the titles on your current Clarkson Potter list that excite you the most?
In the early fall, there's 
POWER VEGETABLES!
 by Peter Meehan and the editors of 
Lucky Peach
. As you can probably tell from the lava lamps on the cover, the vibe is "so wrong it's right." I don't think I've ever laughed so hard reading a cookbook. Pete calls it "all-caps cooking" for people who want to eat more vegetables. Not a hard sell. He always brings me in for the food, but I stay for the laughs; his is a humor that's one part lovable downtown cool dude, and one part grown-up who never takes himself too seriously. Pete's gift—the whole charm of 
Lucky Peach
, I think—is in creating great recipes that keep it real. I know someone who has all the ingredients used in 
LUCKY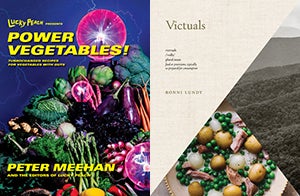 PEACH PRESENTS 101 EASY ASIAN RECIPES on his kitchen counter so that every recipe is within arm's reach. I admire that, but am glad I don't live with it! Our most transporting summer cookbook is 
VICTUALS
 by Ronni Lundy. It's really a 
sui generis
 oral history of Appalachia. Each chapter opens with an essay about a particular tradition like salt making, or pickling, or seed saving.  Ronni brings grace to difficult subjects, too, such as Appalachia's role in slavery and shows the vibrancy and rich lives of a people who have been written off as unsophisticated and poor. It's fashionable to say that the food of Appalachia is being 
rediscovered
 by a new generation, but that notion isn't right: what Ronni shows us is that it never disappeared. And the photography! It's so beautiful: grounding like the best documentary photography, but also exuding that special, stay-for-dinner Southern warmth. Francis Lam, Ronni's editor, is wildly knowledgeable about the South and Southern food and Stephanie Huntwork, the book's designer, hails from West Virginia. Their collaborative magic is on every page.
What are two of your all-time favorite summer reads and why?
It's tough to pick just two. 
Middlesex
, 
A FINE BALANCE
, 
THE IMMORTAL LIFE OF HENRIETTA LACKS
, 
A DEATH IN THE FAMILY
, 
Heat
, 
BEHIND THE BEAUTIFUL FOREVERS
. I can't not mention those. But if I had to pick just two: The summer before my senior year in college, I was lucky to have landed an internship at FSG. They were just about to publish John McPhee's 
Looking for a Ship
. I remember taking the galley into Union Square Park during lunch one day and coming across a sentence that compared the size of the merchant ship on which McPhee's subject, Andy Chase, finds a job, to that of Union Square Park. I was tickled by the immediacy of the passage and the thought that perhaps McPhee had written that sentence after leaving his publisher one afternoon.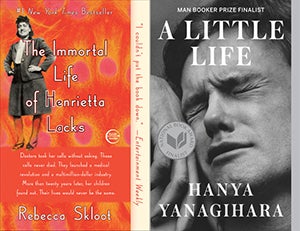 And I was exhilarated, too, by the idea that someone would put a book into your hands after having just waved goodbye to the author. That was the summer I discovered and fell in love with the romance of publishing. Last summer I read 
A LITTLE LIFE
. I had an attachment to it that I can't remember having had in a long time. Why? I suppose because it's a story of remarkable friendships and the rhythms of those friendships that sometimes ebb and flow in all the wrong ways—and then sometimes do so with musical perfection. I was so engrossed in the book, I became deluded, thinking the four main characters were my friends, too. That last page was like an anguished goodbye. It's also such a courageous book. Yanagihara writes the unspeakable. But not just unspeakable tragedy; she also writes unspeakable love. I brought the hardcover on a family vacation and read whenever we had even the briefest downtime. My kids started bringing their books on our sightseeing trips, too. There's a picture from the trip of three of us reading: my son has 
Harry Potter and the Half-Blood Prince
, my daughter is buried in a Judy Moody and I have A LITTLE LIFE. I'd like to caption that shot, "The family that reads together sticks together…"
August 1, 2016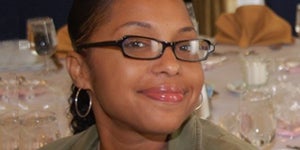 Porscha Burke, Publishing Manager, Associate Editor, Random House Publishing Group, shares her perfect summer books, her current reading list, and her favorite summer traditions. During her twelve years at Random House, Ms. Burke has acquired works by Dr. Maya Angelou, Rev. Dr. Amy Butler, and Black Girl Nerds founder Jamie Broadnax. She has also spearheaded new editions of  THE AUTOBIOGRAPHY OF MALCOLM X and THE BLACK BOOK. A University of Virginia graduate, she is pursuing an MFA in Creative Nonfiction at Goucher College. Enjoy a glimpse into Porscha's summer.
expand
In your view, what are some of the qualities that characterize the best summer reads?
My perfect summer reads completely consume me – books that make me lose all track of time and physical space. (Of course, some exceptions are books about a place I'm visiting – say reading Naomi Jackson's
THE STAR SIDE OF BIRD HILL
 while on a beach in the Caribbean, where the reading experience is enhanced by taking in the sights and sounds she describes in the scenery and accents all around me.) My favorite summertime literary adventures trend toward the mysterious and are generally of a perfect length to pack in a suitcase and finish over the course of a long day (or weekend) of waterfront lounging. And given our current incredible sociopolitical landscape, some nonfiction works grappling with issues facing the nation and critical conversations about improving our world and interior lives also make my vacation shortlist.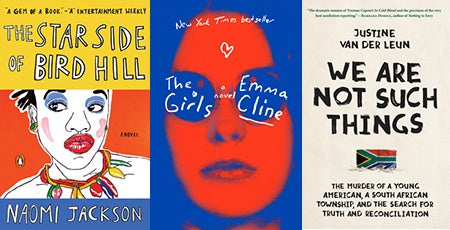 What books are on your current summer reading list and why were you attracted to them?
My current summer reading list includes books my colleagues have been celebrating since launch and that I'm finally excited to read as they go on sale:  
THE GIRLS
 by Emma Cline and 
WE ARE NOT SUCH THINGS
  by Justine van der Leun. I'm also enjoying Colson Whitehead's upcoming novel, 
THE UNDERGROUND RAILROAD
 – where the celebrated novelist brings his sharp wit and descriptive intensity to the slave plantations and swamps along the path toward freedom in nineteenth-century America. And I am still charged from reading 
THE FIRE THIS TIME: A New Generation Speaks on Race
, edited by Jesmyn Ward and featuring some of my favorite essayists, including Kiese Laymon, Claudia Rankine, and Clint Smith. These powerful writers and thought leaders are pushing the conversation on race out of the ivory tower and think tanks to on-the-ground reckoning and action – an absolute must-read.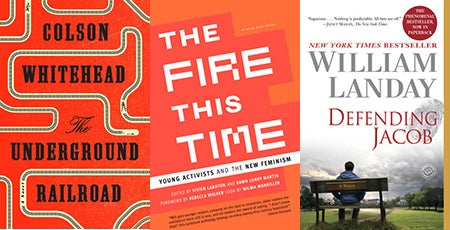 What are two of your all-time favorite beach reads and why?
One of my all-time favorite beach reads is 
Wild Seed
 by Octavia E. Butler, where she transported me into worlds I imagine my ancestors once traveled–the rich jungles of Africa, the unforgiving colonial Americas–and beautifully rendered (using science fiction conceits) the magic and strength they held in their bones that allowed their descendants and their stories to survive. Another favorite? 
DEFENDING JACOB
 by William Landay – that crime drama and intense family story was better than watching a riveting episode of 
Law & Order
 while sitting (on the edge of my seat) outdoors.
What are your favorite summer vacation destinations and summer traditions?
My favorite summer traditions are watching fireworks with my mom (ice cream cones with sprinkles in our hands) and getting away to a tropical beach with my homegirls (sipping Red Stripes in Jamaica or mai tais in Maui).