Suzy Fincham-Gray
April 12, 2018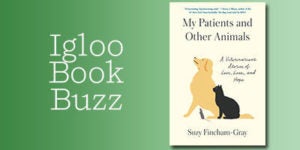 National Pet Day was April 11 and our new Igloo Book Buzz selection, Suzy Fincham-Gray's MY PATIENTS AND OTHER ANIMALS: A Veterinarian's Stories of Love, Loss and Hope, was published by Spiegel & Grau on April 10. Looking at her life spent in the company of animals, veterinarian Fincham-Gray invites readers into her personal world of loving, healing, and assisting with the loss of our beloved pets, while showing the many ways they change our lives. In her literary debut, she writes with the same tenderness she brings to her patients, whose needs she must meet with her mind, her hands, and her heart.
expand
[caption id="attachment_110808" align="alignright" width="183"]
Suzy Fincham-Gray
© Robin Dayle[/caption] "When I first considered writing a book," says Fincham-Gray, "I was determined not to write a memoir; however, as I explored the subjects that interested me, I returned again, and again, to the career I have pursued for almost thirty years. This journey has required that I take a deeper and clearer look at my role, as both a veterinarian and as a pet owner, and has helped me understand more about human-pet relationships. The stories in this book are the ones that demanded I write them, the cats and dogs who revealed, in a new way, what it means to care for the animals we love." The book was acquired and edited by Spiegel & Grau Editor
Annie Chagnot
: "When I first read Suzy's manuscript I was riveted by her ability to craft such suspenseful scenes (think
Grey's Anatomy
but with animals) and I was surprised by how much the
material moved me. There's an intimacy and grace to her writing that makes it transcend the 'pet lit' category—which made sense when I learned that in addition to being a veterinarian, Suzy also has an MFA in creative writing, which makes her a rare breed! This is a book that any animal lover MUST read, but it's also so universal in its theme of how we care for the ones we love, that I can't imagine a reader who wouldn't be moved by it." In celebration of the release of MY PATIENTS AND OTHER ANIMALS and National Pet Day, this week several Random House and Spiegel & Grau colleagues' cats and dogs posed for the camera.