Sweetbitter
May 15, 2016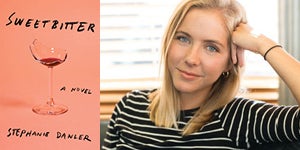 These are the words that open Stephanie Danler's extraordinary debut novel, SWEETBITTER, which will be published by Alfred A. Knopf on May 24, introducing readers to Tess, the book's twenty-two-year-old narrator:  "You will develop a palate. A palate is a spot on your tongue where you remember. Where you assign words to the textures of taste. Eating becomes a discipline, language-obsessed. You will never simply eat food again." 
expand
A lush novel of the senses—of taste and hunger, seeing and understanding, love and desire— SWEETBITTER is ultimately about the power of what remains after disillusionment, and the transformation and wisdom that come from our experiences, sweet and bitter. 
Advance praise has ignited waves of pre-publication buzz.  A sampling:
"Stephanie Danler arrives on the literary scene with a fully-fledged, original voice that's
wry, watchful and wise beyond its years – acutely attuned to the pleasures of the senses and to the desperate stratagems of self-invention among young urban seekers.  Sweetbitter is a stunning debut novel, one that seems destined to help define a generation."
—Jay McInerney, author of 
Bright Lights, Big City
and 
Bright, Precious Days
, to be published by Knopf in August.
"... rich in sensory descriptions, the kind of book that one doesn't just read but devours."
—
Time Out
"Stephanie Danler's prose—like the New York life her young heroine longs for—intoxicates the senses. A charming, harrowing debut."
—Jonathan Dee, author of 
The Privileges
and 
A Thousand Pardons
"A book that'll stay glued to your hands as you race through the pages in one sitting."
—
Elle 
Peter Gethers
, President, Random House Studios, and Senior Vice President, Editor at Large, was an early reader of the SWEETBITTER manuscript, and told 
The New York Times
, "Within 10 pages, I was going, oh my God, this woman is an extraordinary talent. One doesn't see a lot of first novels like this, or any novels like this … The way she writes about food, you can actually taste it."  Mr. Gethers recommended the manuscript to 
Claudia Herr
, Executive Story Editor, Random House Films, and Editor at Large, who acquired SWEETBITTER in a two-book-deal for Knopf in the fall of 2014. Ms. Danler, who holds an MFA in creative writing from the New School, comments, "When I'm chatting with people, and I mention that I wrote a book, they nod politely. Every time I tell them it's coming out with Knopf, their eyes widen and they say, 'Oh.' First recognition, then interest and excitement. It's a ridiculous thing, to call yourself a Knopf author, to look at the company you're in, to know that the Borzoi will go on the spine of your book, making it instantly recognizable to those that love literature. Absolutely ridiculous. I don't think I'll ever get over it." SWEETBITTER and Ms. Danler have attracted an impressive range of media, including pieces in 
TimeOut
, 
The Wall Street Journal
 and the current issue of 
Vogue
,  a book excerpt in the May edition of 
Bon Appetit Magazine
, with coverage in 
TIME, Vanity Fair
, 
The New York Times Book Review, O Magazine, Marie Claire, People, Entertainment Weekly, DuJour, Parade, W,
Nylon, Bustle, Brooklyn Magazine,
 and much more to come.