watson-guptill
May 15, 2017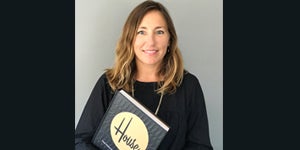 The newly unveiled Watson-Guptill colophon came to life because of a close collaboration between House Industries and a visionary team led Ten Speed Press Creative Director Emma Campion. Here Emma answers three questions about this very fruitful working partnership.
expand
How would you describe the inspiration behind the new Watson-Guptill colophon and the creative process involved, from development to final design?
Collaborating with House industries on their new book, 
HOUSE INDUSTRIES: The Process Is the Inspiration
, was a real catalyst for us to work on a new colophon, especially as this is the imprint's 80th anniversary. To begin the creative process, 
Executive Editor
Jenny Wapner
 and I shared visuals and brand identities that inspired emotion and spoke to the history of the Watson-Guptill imprint. We winnowed our ideas down and decided to keep a thread to the original logo through the continued use of a horse but in a more modern and graphic format. House ran with the direction, and after digging into the history of the logo, they evolved the look, coming back with a great colophon that has personality and simplicity.
What have been the most compelling aspects of your creative work with House Industries and the books that you have worked on together – including the new one – as well as their other projects?
House clearly have the highest design skills, but their deep appreciation for textural elements and interesting, layered printing processes really pushed our skill and knowledge of bookmaking.
Who do you see as the primary readers and consumers who are most interested in House Industries books Watson-Guptill has published?
I see consumers from all creative fields coming to these books, as House pulls on their passions outside of just design and typography; their followers are diverse, avid typographers, vintage cars fanatics, cyclists, interior designers, parents with a passion for thoughtfully designed toys, and more. Read this corresponding article: 
Watson-Guptill Unveils New Colophon Created by House Industries
May 15, 2017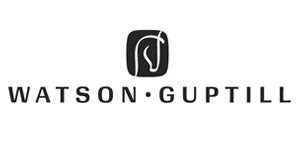 The Crown Publishing Group is pleased to announce a new colophon design for its Watson-Guptill imprint, which publishes instructional and influential illustrated art books for both amateur and professional artists around the world. The new logo, which will debut on books published this summer, is a reimagining of Watson-Guptill's classic horse icon, and was created by the renowned font design studio House Industries.
expand
Founded in 1937, and part of 
Ten Speed Press
 since 2013, Watson-Guptill is celebrating its 80th anniversary in 2017. The imprint publishes respected experts who instruct and inspire artists in a wide range of traditional and fine arts, including drawing, painting, craft, and printmaking. The first books to feature the new Watson-Guptill logo are the elevated craft book, 
THE FINE ART OF PAPER FLOWERS
 by San Francisco-based artist 
Tiffanie Turner
 (August 22), and two new titles in the legendary "Draw 50" series, 
DRAW 50 OUTER SPACE
 and
DRAW 50 SEA CREATURES
 (both July 25). When asked about the decision to work with House Industries on the new logo, 
Ten Speed's Creative Director Emma Campion
 explained: "Our in-house team wanted to realign the visual branding of the imprint, and when we became publishing collaborators with House Industries for their new Collection book series with us, they spoke with such reverence for the heritage of Watson-Guptill that they were the obvious choice for the redesign. We asked them to create a logo that felt bold and modern, but that retained the integrity of the brand's history. We want the mark to communicate that we can stand astride the two worlds of traditional and more cutting- edge art instruction and design." Known throughout the world for its eclectic font collections and far-reaching creative exploits, House Industries has been a standard-bearer for American graphic design for twenty-five years. House has worked with a diverse list of collaborators, including Jimmy Kimmel, the
 New Yorker
, and the Estate of Charles and Ray Eames. House's work is in the permanent collection of the Smithsonian's Cooper-Hewitt National Design Museum, and will be the subject of a major exhibition at The Henry Ford Museum this summer.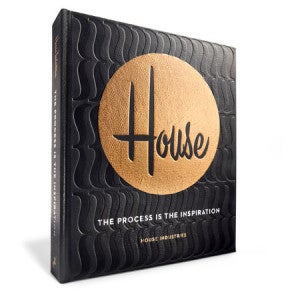 Their new book, 
HOUSE INDUSTRIES: The Process Is the Inspiration
, an illustrative and entertaining journey through the studio's creative process, will be published by Watson-Guptill on May 30.  The book marks the launch of the House Industries Collection, a new collaboration with the Crown Publishing Group. House Industries is represented by Katherine Cowles of the Cowles Agency. When asked about the challenge of creating the design, Andy Cruz, who art-directed the project, and Ken Barber, who handled the design, illustration, and typography, said: "The biggest challenge in developing the new identity for Watson-Guptill was creating a mark that would stand as a convincing extension of the publisher's legacy, while maintaining a decidedly modern feel. The original logo, drawn by Norman Kent, was based on a pencil drawing by the imprint's co-founder, Ernest Watson. Considering the brand's heritage, as well as the publishing house's long-standing commitment to both tradition and innovation in art instruction, we want the mark to represent a sense of history, while speaking to Watson-Guptill's future." Read this corresponding article: 
TSP Creative Director Emma Campion on Collaborating with House Industries