Who Was? series
May 11, 2017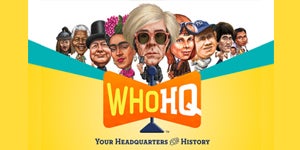 From Page to Screen: Netflix has ordered 13 half-hour episodes of The Who Was? Show, a new family variety series based on Penguin Workshop's bestselling Who Was? series, slated for release in 2018.
The show is described as "a mixture of comedy and history [that] will feature key leaders, innovators and creative trendsetters while placing historical figures into context for today's children"
expand
and will "showcase an assortment of live-action, animated shorts, improvisations, sketches, musical performances and guest appearances." The Who Was? Show is being developed by Penguin Workshop and producers FremantleMedia Kids & Family Entertainment (FMK), with Matador Content (Lip Sync Battle) co-producing, and Bento Box Entertainment (Bob's Burgers) signed on as the animation studio. Comedy producer Rich Korson (Those Who Can't, Great Minds with Dan Harmon) has been tapped as the showrunner and executive producer. Bob Higgins, Jay Peterson, and Penguin Workshop President & Publisher Francesco Sedita will also executive produce. The series has an all-star lineup of comedy writers attached, including Conan O'Brien veteran Brian McCann, head writer Elliott Kalan (The Daily Show), Eric Gilliland (Roseanne), Delaney Yeager (The Daily Show) and Tami Sagher (Inside Amy Schumer). Launched in 2002, the New York Times bestselling Who Was? series tells the amazing stories of trailblazers, legends, innovators, and creators from throughout history and today. One of the leading biography series in the marketplace, the success of Who Was? led to two spin-off series, What Was? and Where Is?; all three series are now published under the Who HQ brand. With over 185 titles published to date, and over 20 million copies sold, Who HQ is the ultimate destination for all things Who? What? and Where?