wwII
May 23, 2018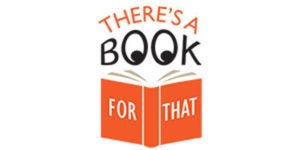 On Monday, May 28th, we pay tribute to the American men and women who have died in service to our country. To honor the occasion, we are highlighting titles — fiction and nonfiction — with themes that honor the service and sacrifice of our nation's military.
expand
"A hero is someone who has given his or her life to something bigger than oneself."
– Joseph Campbell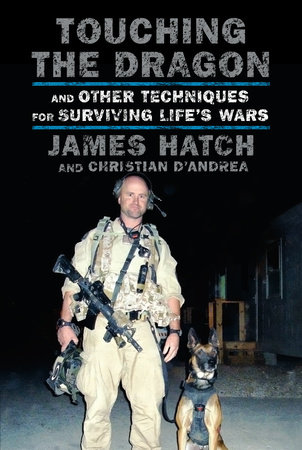 TOUCHING THE DRAGON AND OTHER TECHNIQUES FOR SURVIVING LIFE'S WARS
by James Hatch, Christian D'Andrea
From former special ops Navy SEAL senior chief; master naval parachutist (four Bronze Stars with Valor, Navy and Marine Corps Medal recipient, etc.); fighter in 150 missions (Iraq, Afghanistan, Bosnia, Africa); expert military dog trainer and handler whose SEAL dogs were partners and medal winners—a fierce, moving tale of a return from hell, being badly wounded on a special ops mission that ended his two-decades-long military career, his searing recovery, and the struggle to live life off the speeding train of war.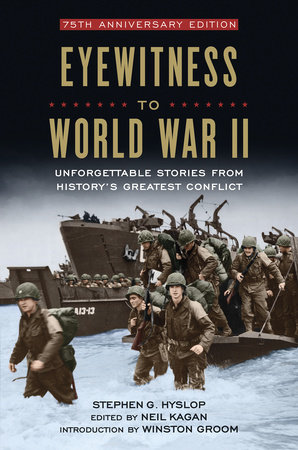 EYEWITNESS TO WORLD WAR II: UNFORGETTABLE STORIES FROM HISTORY'S GREATEST CONFLICT b
y Stephen G. Hyslop, Winston Groom (National Geographic)
This elegant narrative edition of Neil Kagan's best-selling
Eyewitness to World War II
offers incredible first-person stories and amazing moments of heroism, providing new context and perspective on history's greatest conflict.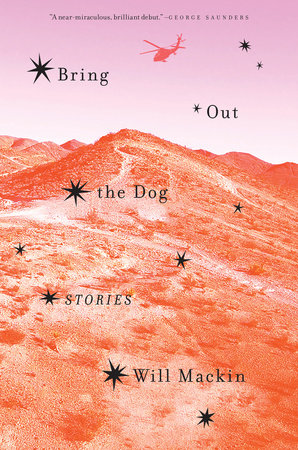 BRING OUT THE DOG: STORIES
by Will Mackin
In the tradition of
The Things They Carried
and
Redeployment
, a debut short story collection from a U.S. Navy veteran who completed five combat tours in Iraq and Afghanistan—a remarkable portrait of the absurdity and poetry that define life in the most clandestine circles of modern warfare.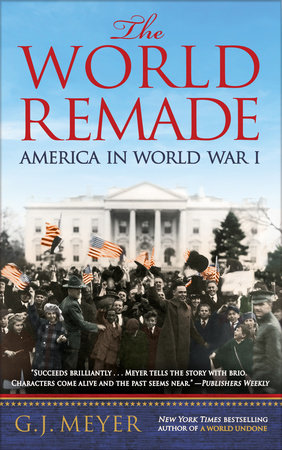 THE WORLD REMADE: AMERICA IN WORLD WAR I
by G. J. Meyer
A bracing, indispensable account of America's epoch-defining involvement in the Great War, rich with fresh insights into the key issues, events, tumultuous politics, and towering historical figures that defined the era and led to the emergence of the United States as the dominant global power.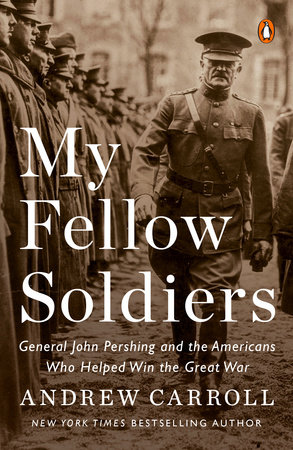 MY FELLOW SOLDIERS; GENERAL JOHN PERSHING AND THE AMERICANS WHO HELPED WIN THE GREAT WAR
by Andrew Carroll
A vivid and moving account of the American experience in World War I, with General John Pershing featured prominently in the foreground, drawing on both little-known and newly uncovered letters and diaries. Woven throughout Pershing's story are the experiences of a remarkable group of American men and women, both the famous and unheralded. The chorus of these voices makes the high stakes of this epic American saga piercingly real and demonstrates the war's profound impact on the individuals who served.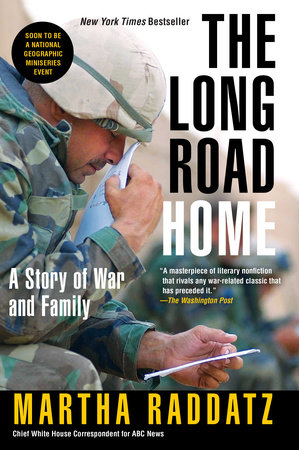 THE LONG ROAD HOME: A STORY OF WAR AND FAMILY
by Martha Raddatz
Tie-in to National Geographic Channel's miniseries—ABC News' Chief Global Affairs Correspondent Martha Raddatz shares remarkable tales of heroism, hope, and heartbreak in her account of "Black Sunday"—a battle during one of the deadliest periods of the Iraq War.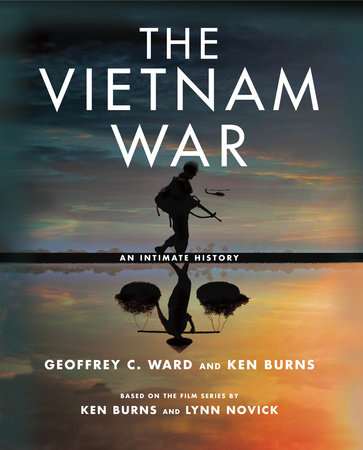 THE VIETNAM WAR: AN INTIMATE HISTORY
by Geoffrey C. Ward, Ken Burns
Companion to the acclaimed PBS series More than forty years after it ended, the Vietnam War continues to haunt our country. We still argue over why we were there, whether we could have won, and who was right and wrong in their response to the conflict. Now, continuing in the tradition of their critically acclaimed collaborations, the authors draw on dozens and dozens of interviews in America and Vietnam to give us the perspectives of people involved at all levels of the war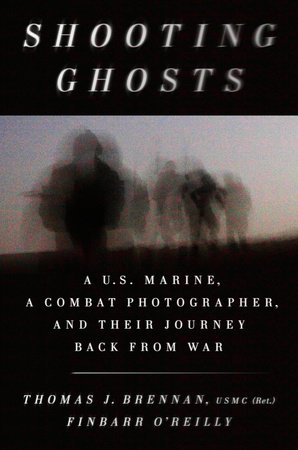 SHOOTING GHOSTS: A U.S. MARINE, A COMBAT PHOTOGRAPHER, AND THEIR JOURNEY BACK FROM WAR
by Thomas J. Brennan USMC (Ret.), Finbarr O'Reilly
A unique joint memoir by a U.S. Marine and a conflict photographer, whose unlikely friendship helped both heal their war-wounded bodies and souls. Their story, told in alternating first-person narratives, is about the things they saw and did, the ways they have been affected, and how they have navigated the psychological aftershocks of war and wrestled with reforming their own identities and moral centers.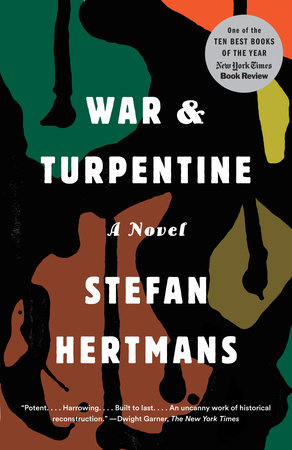 WAR AND TURPENTINE: A NOVEL
by Stefan Hertmans, David Mckay
A critically acclaimed and internationally celebrated novel of war, art, and memory. The life of Urbain Martien—artist, soldier, survivor of World War I—lies contained in two notebooks he left behind when he died in 1981. In War and Turpentine, his grandson, a writer, retells his grandfather's story, the notebooks providing a key to the locked chambers of Urbain's memory.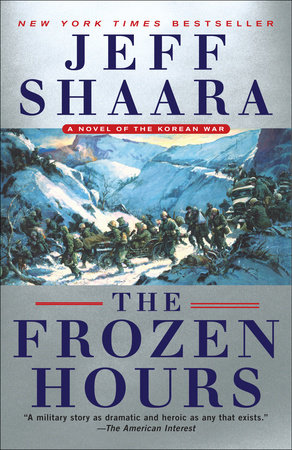 THE FROZEN HOURS: A NOVEL OF THE KOREAN WAR
by Jeff Shaara
A riveting novel about the Korean War and the Battle of Chosin Reservoir, written with Jeff Shaara's signature "you-are-there" immediacy and intense, varying perspectives.
FOR YOUNGER READERS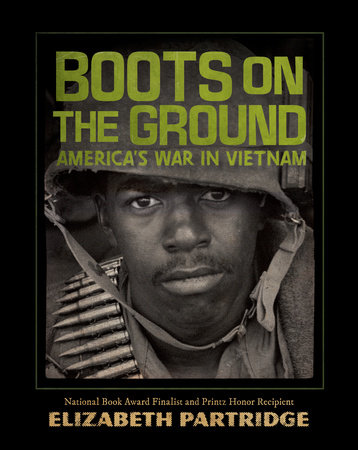 BOOTS ON THE GROUND: AMERICA'S WAR IN VIETNAM
by Elizabeth Partridge (for middle grades and up)
The history of the Vietnam era is complex; the cultural impact extraordinary. But it's the personal stories of eight people—six American soldiers, one American nurse, and one Vietnamese refugee—that form the heartbeat of
Boots on the Ground
. Alternating with these chapters are profiles of key American leaders and events, reminding us what was happening at home, including Kent State, Woodstock, and Watergate. This show-stopping book is Elizabeth Partridge at her finest.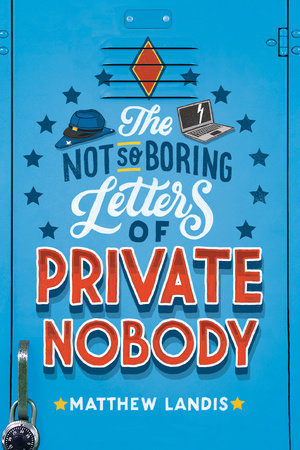 THE NOT-SO-BORING LETTERS OF PRIVATE NOBODY
by Matthew Landis
A trio of seventh graders become one another's first friends as they discover the secrets of a Civil War soldier in this middle grade novel for fans of Gordon Korman and Gary Schmidt. "Author [Matthew Landis], himself an eighth grade social studies teacher, has produced an American history educator's dream novel." —
School Library Connection
For more on these and related titles visit the collection
Memorial Day 2018
---
There's a Book for That!
is brought to you by Penguin Random House's Sales department. Please follow our Tumblr by clicking
here
—and share this link with your accounts:
theresabookforthat.tumblr.com
. Thank you! Did you see something on the news or read about something on your commute? Perhaps you noticed something trending on Twitter? Did you think: "There's a book for that!"? Then please, send it our way at
theresabookforthat@penguinrandomhouse.com
December 7, 2016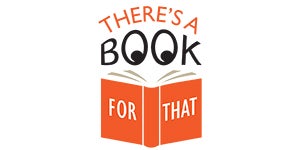 December 7, 2016 marks the 75th Anniversary of Japan's attack on Pearl Harbor and six other military bases on the Hawaiian island of Oahu. The attack precipitated America's entry into World War II. To coincide with the many planned commemorative events, we bring you the following books, including personal accounts, of that fateful day.
expand
FEATURED TITLES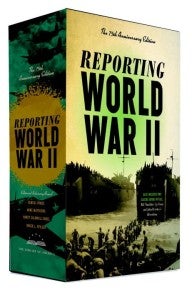 REPORTING WORLD WAR II: AMERICAN JOURNALISM 1938-1946 edited by Samuel Hynes, Anne Matthews, Nancy Caldwell Sorel
Marking the 75th anniversary of America's entrance into World War II, this Library of America two-volume boxed set gathers the acclaimed collection that evokes an extraordinary period in American history—and in American journalism. In two authoritative volumes, nearly 200 pieces by 80 writers record seminal events. Read an excerpt: 
"The Worst News That I Have Encountered in the Last 20 Years."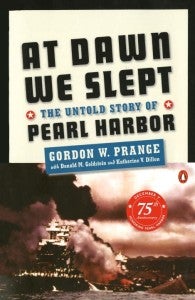 AT DAWN WE SLEPT: THE UNTOLD STORY OF PEARL HARBOR; Revised edition by Gordon W. Prange, Donald M. Goldstein
Revisit the definitive book on Pearl Harbor: At 7:53 a.m., December 7, 1941, America's national consciousness and confidence were rocked as the first wave of Japanese warplanes took aim at the U.S. Naval fleet stationed at Pearl Harbor. As intense and absorbing as a suspense novel, At Dawn We Slept is the unparalleled and exhaustive account of the Japanese bombing of Pearl Harbor.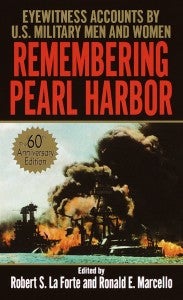 REMEMBERING PEARL HARBOR: EYEWITNESS ACCOUNTS BY U.S. MILITARY MEN AND WOMEN by Robert S. La Forte, Ronald E. Marcello
FOR YOUNGER READERS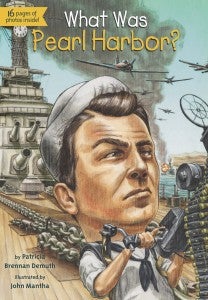 WHAT WAS PEARL HARBOR? by Patricia Brennan Demuth, John Mantha, Tim Tomkinson; ages 8-12
In a compelling, easy-to-read narrative, children will learn all about a pivotal moment in American history.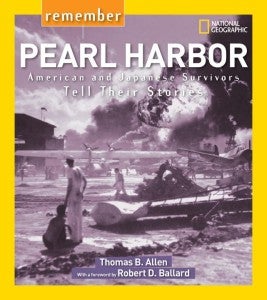 REMEMBER PEARL HARBOR: AMERICAN AND JAPANESE SURVIVORS TELL THEIR STORIES by Thomas B. Allen, Robert D. Ballard; Ages 10 & up
This landmark volume will provide young readers with valuable insights into both the Japanese and American points of view and demonstrate why people on both sides feel the need to remember Pearl Harbor.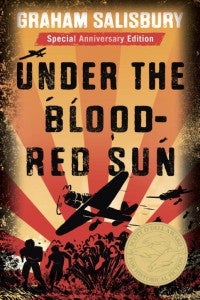 UNDER THE BLOOD-RED SUN by Graham Salisbury; Ages 12 & up
Tomi was born in Hawaii. His grandfather and parents were born in Japan, and came to America to escape poverty. World War II seems far away from Tomi and his friends. But then Pearl Harbor is attacked by the Japanese, and the United States declares war on Japan. Japanese men are rounded up, and Tomi's father and grandfather are arrested. It's a terrifying time to be Japanese in America. But one thing doesn't change: the loyalty of Tomi's buddies, the Rats.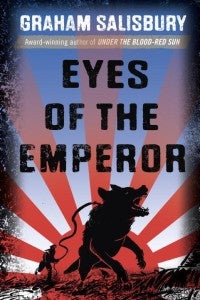 EYES OF THE EMPEROR by Graham Salisbury; Ages 12 & up
Eddy Okubo lies about his age and joins the army in his hometown of Honolulu only weeks before the Japanese bomb Pearl Harbor. Suddenly Americans see him as the enemy—even the U.S. Army doubts the loyalty of Japanese American soldiers. Then the army sends Eddy and a small band of Japanese American soldiers on a secret mission to a small island off the coast of Mississippi. Here they are given a special job, one that only they can do. Eddy's going to help train attack dogs. He's going to be the bait.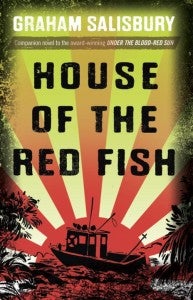 HOUSE OF THE RED FISH by Graham Salisbury; Ages 12 & up
1943, one year after the end of Under the Blood-Red Sun.  As a Japanese American, Tomi and his family have new enemies everywhere, vigilantes who suspect all Japanese. Tomi finds hope in his goal of raising Papa's fishing boat, sunk in the canal by the Army on the day of the attack. To Tomi, raising Papa's boat is a sign of faith that Papa and Grandpa will return. For more on these and related titles visit the edelweiss collection: 
Pearl Harbor