Zach Schonbrun
April 17, 2018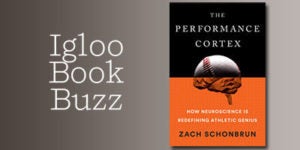 Why couldn't Michael Jordan, master athlete that he was, crush a baseball? Our new Igloo Book Buzz selection, Zach Schonbrun's THE PERFORMANCE CORTEX, published by Dutton on April 17, provides an answer to that question and many others while revealing what actually drives human movement and its spectacular potential. Whether it is timing a 95 mph fastball or reaching for a coffee mug, movement requires a complex suite of computations that many take for granted. With this book, Schonbrun ushers in a new way of thinking about the athletic gifts we marvel over and seek to develop in our own lives. It's not about the million-dollar arm anymore. It's about the million-dollar brain.
expand
[caption id="attachment_111171" align="alignright" width="249"]
Stephen Morrow[/caption]
Stephen Morrow,
Vice President, Executive Editor, Dutton, said, "From the first moments of engagement with Zach Schonbrun's proposal, his passionate curiosity was captivating. I had the impression he was a sports reporter, but that oversimplification of his immense journalistic talent was quickly swept away. I didn't grow up with baseball (cricket guy), but I loved
Moneyball
and this book promised to take the science of sport to a new level. Zach had found two neuroscience start-up entrepreneurs, an unsung brilliant researcher at John's Hopkins, and was burning to talk to someone in England. All this in pursuit of an understanding of what exactly makes the best athletes so good at making impossible feats look easy. It has been an utter delight and profound pleasure to work with a first time author of such skill and poise on the page and in the field, wherever his investigations take him. Including airline flights themselves, as you can see
here.
[caption id="attachment_111174" align="alignright" width="261"]
Zach Schonbrun © Curtis Cort[/caption] Schonbrun reveals the stories behind THE PERFORMANCE CORTEX: "I came across the topic when my wife found a small blurb in the Columbia alumni magazine about neuroscientists trying to work with Major League Baseball teams. I certainly didn't think at the time that it might lead me here, but I kept tugging at that thread of neuroscience and sports and there was just so much to unravel. I began to realize, well, maybe I've been looking at athleticism all wrong. And I figured if I had, then probably others had as well. The book formed from my own curiosity, and a desire to kind of set the record straight. "My background is in sports journalism, not science, so there was a fairly steep learning curve for me. I leaned on the researchers that I profiled to make sure that what I was writing was fair and accurate. And I also leaned on Stephen, whose own knowledge and vision kept this as a science-sports book, rather than the other way around. But one thing I never struggled with was enthusiasm for and interest in the subject, and I'm grateful for that. It made this experience much more enjoyable."
Here is a sampling of advance media praise for THE PERFORMANCE CORTEX:
"A must-read for the cerebral sports fan…like
Moneyball
except nerdier. Much nerdier."
--Sports Illustrated
"Fans of sport science, sport psychology, robotics, and neuroscience will find this to be informative and inspiring."
--Library Journal
"[A] revealing tour of the minds of winning athletes… readers interested in the applications of neuroscience to everyday life will find plenty of value here."
--Kirkus Reviews
"Poised to guide the sophisticated sports fan in such examination, Schonbrun lucidly explains the fascinating new world of neuroathletics…The stereotype of the dumb jock may not survive this explosive jolt!"
--Booklist