pantheon
August 10, 2017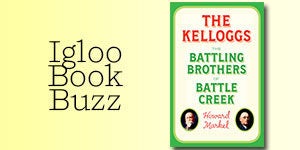 "What's more American than Corn Flakes?" Bing Crosby once posed that rhetorical question and would probably have enjoyed reading our new Igloo Book Buzz selection, Howard Markel's THE KELLOGGS: The Battling Brothers of Battle Creek, published by Pantheon.  
expand
What inspired Markel, a doctor, professor, historian, and author, to write this book?  He said, "After finding a treasure trove of papers and other archival materials documenting the Kellogg brothers' lives, I knew there was a remarkable story worth telling. This family saga was more than the story of the creation of corn flakes or a feud between brothers, it was a compelling and important tale of modern medicine, nutrition, industry and wellness in America."  
Vicky Wilson
, who edited the book, said, "The story of the Kellogg Brothers is a great American saga of know-how, instinct, curiosity, invention and determination.  It's the building of a vast industry that changed how America lived and ate for more than seven decades, from post-Civil-War America, through the gilded age up to the Second World War.  It's a kind of
Magnificent Ambersons
, mid-western American saga that gives us a changing world in the heart of the industrial age." [caption id="attachment_7390" align="alignright" width="199"]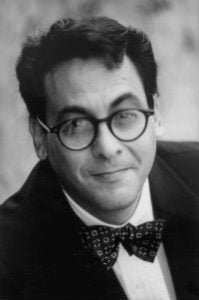 Howard Markel
Credit: Joyce Ravid[/caption] THE KELLOGGS has garnered much praise from media outlets as well as authors: "A tale of grit, controversy, faith and the emergence of the 'wellness' movement. In the hands of Markel, a trained historian, physician, seasoned writer and chronicler of America, this tale comes alive. A fabulous read." —Abraham Verghese, author of CUTTING FOR STONE "Howard Markel's riveting, deeply researched new book covers vast territory: the saga of the squabbling Kellogg brothers ("magnificent showmen, resolute empire builders, and unwavering visionaries"), their mass-branding of breakfast cereals, their concept of 'wellness,' and their enormous influence on the diet of millions of Americans.  This book arrives at a pivotal moment in our own history when mass-marketing, showmanship, and the media deserve particularly deep study.  Markel's incandescent scholarship and his incisive analysis shine through this book.  THE KELLOGGS can certainly be read as a biography of two visionaries (and their extended families), but it also deserves to be read as a case study by generations of future readers." — Siddhartha Mukherjee, Pulitzer Prize -winning author of 
The Emperor of All Maladies: A Biography of Cancer
"This incredible story by itself would be sufficient for a book. Markel, however, goes much further . . .an engrossing adventure about the rise of Midwest America from the pioneering days of the Kellogg family to World War II with all of its failures and successes. Medicine, breakfast foods, and the Seventh Day Adventist Church are part of the story." — Robert S. Davis, 
New York Journal of Books
March 10, 2017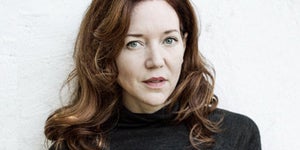 Author Meg Howrey is a former dancer who performed with the Joffrey, Eglevsky Ballet, and City Ballet of Los Angeles. She toured nationally with the Broadway production of Contact, for which she won the Ovation Award in 2001 for Best Featured Actress in a Musical. During her writing career, Meg has been the author two novels for Pantheon/Vintage, Blind
expand
Sight and 
The Cranes Dance,
 and the coauthor of two bestselling novels for Penguin, 
City of Dark Magic
 and 
City of Lost Dreams,
 published under the pen name Magnus Flyte.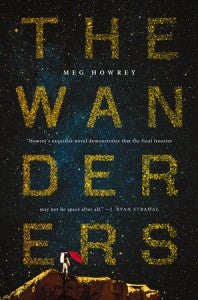 Ms. Howrey's new book, 
THE WANDERERS
, which goes on sale from G. P. Putnam's Sons on March 14, has been described as "
Station Eleven
 meets 
The Martian." 
This brilliantly inventive novel is about three astronauts training for the first-ever mission to Mars, an experience that will push the boundary between real and unreal, test their relationships, and leave each of them—and their families—changed forever. Wonderfully imaginative, tenderly comedic, and unerringly wise, THE WANDERERS explores the differences between those who go and those who stay, telling a story about the desire behind all exploration: the longing for discovery and the great search to understand the human heart. In this "Meet Our Author" interview, Meg takes us inside the heart of her creative life:
How would you describe your writing regimen and routines?
I alternate writing sitting at a desk with standing up at a sort of jury-rigged podium. In both places there is much gesticulation and theatrical facial expressions and mumblings. Making a book is a form of performance art. I'm a slow starter and will spend months on the first one or two chapters. Whether I'm writing two hours a day or ten, each book feels like its own particular beast and requires different regiments of feeding, care, and grooming. Books can bite or run away so you have to stay calm and be patient.
What was the genesis of and the inspirations behind your new novel, THE WANDERERS?
I read a newspaper account of a study conducted by the Russian and European space agencies to investigate the psychological effects of a long duration space mission. I thought, "Well, that's interesting but wouldn't what you'd feel on an actual mission to Mars be substantially different from what you'd feel in a simulator?" And then, "Possibly not, if the simulation was very good," and also, "That would make a cool setting for a novel," followed by, "It's too bad I can't write that novel since I don't know anything about space." So, the beast of this novel entailed a lot of research. Some of the themes I've tried to work on in other books are here: consciousness, ambition, the constructs of family, the problem of deciding what is real, and what "real" means.
How have you been able to find the time and the creative energy to achieve success as an author, dancer and actress?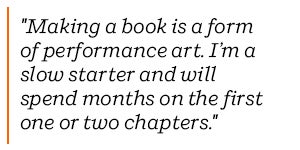 A thing about dance is you start so young you can have had a ten-year career by the time you're in your mid-twenties, especially if you don't go to college, which I didn't. The acting really came out of the dancing—every once in a while somebody needed a ballet dancer who actually wanted to speak, and there weren't that many of us. (Basically, there was the really beautiful one, the one who could also sing, and me.) Whatever else I was doing I was always, always reading, and trying to write came out of that. With all these things—dancing, acting, writing—I never feel that I've arrived. I'm always squinting at goalposts.
You are among a handful of Penguin Random House authors whose books have been published by multiple imprints, in your case Pantheon/Vintage,
Penguin and Putnam.  How has this experience helped shape your writing career?
An accurate reckoning in my "Acknowledgements" section would run to twenty pages.  THE WANDERERS exists because of the generosity of Shelley Wanger and everyone at Pantheon/Vintage, and Carolyn Carlson and many delightful Penguins, and now Tara Singh Carlson and a fantastic team at Putnam. Through five books I've been reinventing myself, and these people have given me the space to do it. There aren't enough thank you cards.