Author Jojo Moyes Rescues UK Literacy Program "Quick Reads"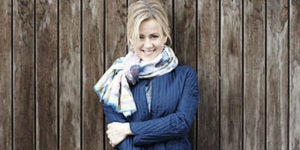 Jojo Moyes, author of #1 bestselling Pamela Dorman / Viking / Penguin books such as ME BEFORE YOU, AFTER YOU and STILL ME, learned that Quick Reads, a UK-based literacy program for adults with reading challenges, was in dire financial straits and on the verge of closing. So she personally donated £360,000 in order to ensure that Quick Reads, which has distributed 4.8 million copies of short novels by big-name author since the program began in 2006, will be able to operate for at least three more years.
"Having written a Quick Reads myself and spoken to readers who had benefited from the scheme, I knew how important it was," Moyes told The Bookseller. She added that it is a "really effective low-cost method of improving the reading skills and enjoyment" of less confident readers.
Penguin Random House UK Chair Baroness Gail Rebuck, who founded Quick Reads, commented, "I have enormous gratitude towards Jojo. You can see in all her books her faith in the human spirit and how invested she is in humanity, which is reflected in this decision. I hope she will bring fresh insight to the campaign over the next three years."
Currently run by The Reading Agency, Quick Reads was set to close after it had been unable to secure a new long-term sponsor to cover its operating costs. Reading Agency chief executive Sue Wilkinson told The Guardian: "We couldn't be more thankful to Jojo for recognizing the importance of the scheme and so generously providing the funding to enable it to continue."
Moyes said, "My aim is to buy them a window, so we can put other long-term funding in place at the end of three years … it's a win for authors, it's a win for publishers and it's certainly a win for readers."
Posted: May 22, 2018