BookCon 2017 Revisited: Watch Videos Featuring Our Authors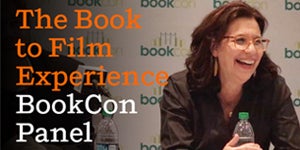 BookCon 2017  drew more than 20,000 book-loving consumers to the Javits Center in New York over the course of a weekend (June 3-4), and our Penguin Random House Digital Video team was there, producing terrific videos of key attractions featuring Penguin Random House authors. We are presenting the best of these productions on Igloo, including video footage of the following events that revolved around our authors and books:  
THE HANDMAID'S TALE, with author Margaret Atwood and showrunner Bruce Miller discussing the book's adaptation into a hit Hulu series; Mayim Bialik Spotlight, with the actress, writer, and neuroscientist speaking about her life and her new book GIRLING UP: HOW TO BE STRONG, SMART AND SPECTACULAR (Philomel); Krysten Ritter Spotlight, with the star of Marvel's Jessica Jones series previewing her debut psychological suspense novel BONFIRE (Crown Archetype); The Book to Film Experience, featuring R. J. Palacio, author of WONDER (Knopf Books for Young Readers) and Nicola Yoon, author of EVERYTHING, EVERYTHING (Delacorte Press); Justice for DC and YA Heroes, with our YA authors Marie Lu, Leigh Bardugo and Matt de la Pena talking about the process of adapting DC heroes into YA novels; and Audiobook Gameshow – Audience vs. Authors, consumers testing their bookish knowledge, competing head-to-head with such authors as Sarah Dessen, author of ONCE AND FOR ALL (Listening Library, June 2017) and Nicola Yoon, author THE SUN IS ALSO A STAR (Listening Library).
Watch the Penguin Random House Digital Video team's BookCon 2017 videos featuring our authors:
For more insights into Penguin Random House's activities at BookExpo and BookCon 2017, read this article:
Penguin Random House Live at BookExpo and BookCon 2017
Posted: June 9, 2017