DK Donates $1 Million Worth of Children's Books to TODAY Show's Toy Drive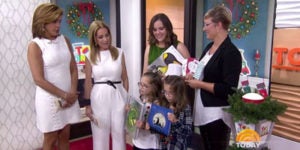 NBC TV's The TODAY Show celebrates its 24th annual Toy Drive this month, and DK returned as a major donor, marking its 17th consecutive year of giving books to children in need.  On Tuesday, December 5, during Kathie Lee & Hoda's segment in the 10 o'clock hour, Editor Allie Singer announced DK's 2017 donation of $1,000,000 worth of brand new children's books.  Allie was joined by Ava and Madeleine, the twin daughters of Simon Fraser, Vice President of Finance & Operations. The girls held up copies of some of DK's lead holiday titles for the season: ANIMAL, 3rd Edition, GOOD NIGHT, BABY MOON and EXPLANATORIUM OF NATURE.   
Through the Toy Drive partnership with The TODAY Show, DK has donated nearly $20,000,000 worth of books to date.
Click here to watch the DK TODAY show clip online.
Posted: December 8, 2017