Employee Blog from Markus Dohle: Humble Beginnings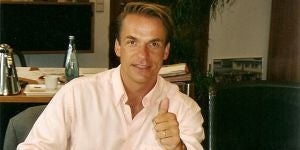 Earlier this month, I left behind the bustling city streets of Manhattan for the quaint, cobblestoned roads of Gütersloh, Germany, where one hundred Penguin Random House colleagues from around the world joined with more than four hundred Bertelsmann colleagues for the Bertelsmann Management Meeting. It was extraordinary to have all of us in the place where, for me, everything started (the picture shows me on one of my first days at Bertelsmann!). Before taking my first job there after university, I grew up not far from Bertelsmann's Gütersloh headquarters. The BMM (Bertelsmann Management Meeting) was last held in Gütersloh in 2012, when the merger between Penguin and Random House was still an idea. Being back there last week got me thinking about the amazing and unexpected ways that great stories find their beginning.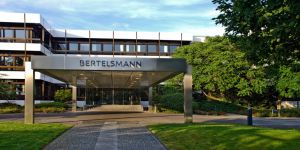 We began with a strategic rationale for the merger based on what we called the Three I's: Integration, International, and Innovation. Today, we have successfully completed the integration of the largest merger in publishing history, and internationally we've strengthened and expanded our key territories. Now we can fully focus on improving through innovation what we already do well. After the BMM, everyone from Penguin Random House in attendance gathered for breakout sessions, splitting into small groups to discuss and exchange ideas focused on our core strategic areas of innovation: Reader, Retail, and Author.
As a child who grew up reading books from the Bertelsmann book clubs of the 1970s, I find it surreal that I now, together with all of you, have the great opportunity and responsibility of carrying forward the publishing legacy of Bertelsmann and of so many other historic houses. As my colleagues discussed the future of Penguin Random House just 150 meters from the small house where Carl Bertelsmann printed his first book, the connection between past and future was palpable.
That afternoon, in our separate Penguin Random House session, the room hummed as new ideas and perspectives were shared and new relationships formed. You can't overestimate what can be born out of a simple dialogue, and the possibilities are even greater when you consider the institutional knowledge and collective imagination that all of you have to share. Collaborating across our company, and working directly with one another, will be one of our greatest competitive advantages going forward.
To that end, an impressive number of our colleagues were deservedly recognized at the BMM by Bertelsmann CEO Thomas Rabe with the coveted Bertelsmann entrepreneur award for their outstanding 2015 achievements. I'd like to personally congratulate them again.
As part of my presentation at BMM, we invited Paula Hawkins and her two editors, Sarah Adams and Sarah McGrath, onstage for an interview. Nearly a year and a half after the publication of The Girl on Train, and after having sold 11 million copies around the world, Paula said of her success: "No, I still can't believe it." Sarah Adams, who said yes to the book after reading only eight chapters, also admitted that she too couldn't possibly have imagined the runaway success the book has enjoyed.
But now, as Penguin Random House—with our combined talent, resources, and bestseller share—we've increased the likelihood that one of our books will achieve "unbelievable" success. Similarly, our completed integration means that we, as a company, can exceed our own high expectations. The necessity of collectively making thousands of decisions every day means that finding even the smallest of ways to become better at what we do can translate into continuous and large improvement across our company. As we move past the integration, I encourage us all to find the ways we can incrementally innovate: whether that's simply experimenting with an idea, welcoming a new perspective, or just having a spontaneous conversation. I think we'll surprise ourselves with what we may start.
Click on the link to see how Penguin Random House is taking Bertelsmann's publishing legacy into the future: PRH BMM Video
Click on the link to see what an unbelievable ride The Girl on the Train has had: BMM The Girl on the Train Video
For additional coverage of the Bertelsmann Management Meeting, visit BeNet
Posted: June 24, 2016