employee blog
August 29, 2016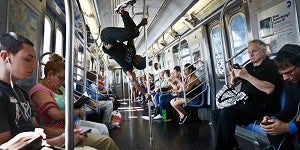 I'm proud to have now called myself a New Yorker for over eight years. Like many of you, the subway has become a regular part of my travel within the city. Over five million New Yorkers ride the subway every day, and for a countless many of them reading is as much a part of their ride as mariachi bands, dance performers, and the cozy quarters of rush hour.
expand
Now, Governor Cuomo is adding WiFi to that list, and I am excited to announce that we have partnered with the MTA and Transit Wireless to create '
Subway Reads
,' an in-transit reading experience for all those New York City subway riders. The promotion launches on August 29, and runs for eight weeks.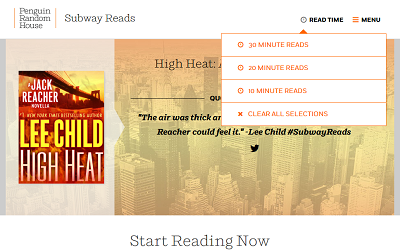 Transit Wireless has already equipped 175 stations with WiFi and plans to complete all 278 by the end of the year. Penguin Random House is doing what we do best, providing great reads – over 175 e-book samples and five free e-short stories from a variety of authors – Lee Child, Lisa Gardner, Alexander McCall Smith, Colson Whitehead, Junot Diaz, Jacqueline Woodson… just to name a few. There is a story for every New Yorker. [caption id="attachment_3232" align="alignright" width="207"]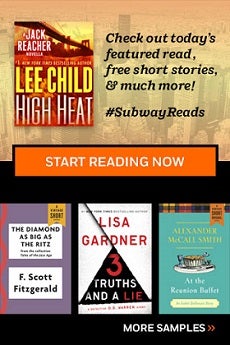 The Transit Wireless mobile landing page[/caption] Visit 
SubwayReadsNY.com
 to learn more, and to see the breadth and depth of literary content we're offering: from travel guides to today's bestsellers, poetry to 
New Yorker
 essays, children's and YA titles to New York history. The selection totals 50+ hours of reading – enough content to ensure great reads on a daily commute from Downtown Brooklyn to Midtown Manhattan for the entire length of the promotion. And no matter what your subway trip, you can use the 'Read Time' function to pick a text based on the duration. For traveling between Hudson Street and 1745 the 20 minute reads are perfectly timed.
Subway Reads
 serves our mission to foster a universal passion for reading and to connect our stories with readers everywhere – even underground. In a city as fast-paced and electric as New York, we can celebrate the opportunity to get lost in a good book, for however long or short your ride may be. So when you're on the subway, rest assured that the next time you hear a street musician come aboard your car shouting "It's showtime!," you have over 175 stories to take you away – without the weight of a single book in your bag.

June 24, 2016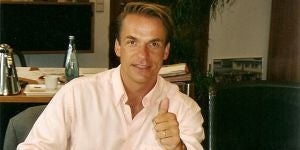 Earlier this month, I left behind the bustling city streets of Manhattan for the quaint, cobblestoned roads of Gütersloh, Germany, where one hundred Penguin Random House colleagues from around the world joined with more than four hundred Bertelsmann colleagues for the Bertelsmann Management Meeting. It was extraordinary to have all of us in the place where, for me, everything started (the picture shows me on one of my first days at Bertelsmann!). Before taking my first job there after university, I grew up not far from Bertelsmann's Gütersloh
expand
headquarters. The BMM (Bertelsmann Management Meeting) was last held in Gütersloh in 2012, when the merger between Penguin and Random House was still an idea. Being back there last week got me thinking about the amazing and unexpected ways that great stories find their beginning.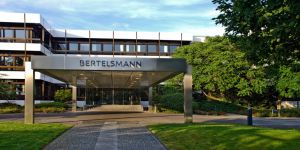 We began with a strategic rationale for the merger based on what we called the Three I's: Integration, International, and Innovation. Today, we have successfully completed the integration of the largest merger in publishing history, and internationally we've strengthened and expanded our key territories. Now we can fully focus on improving through innovation what we already do well. After the BMM, everyone from Penguin Random House in attendance gathered for breakout sessions, splitting into small groups to discuss and exchange ideas focused on our core strategic areas of innovation: Reader, Retail, and Author. [caption id="attachment_2446" align="alignleft" width="300"]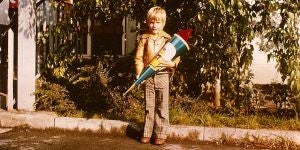 It's tradition in Germany to receive a Schultüte on your very first day[/caption] As a child who grew up reading books from the Bertelsmann book clubs of the 1970s, I find it surreal that I now, together with all of you, have the great opportunity and responsibility of carrying forward the publishing legacy of Bertelsmann and of so many other historic houses. As my colleagues discussed the future of Penguin Random House just 150 meters from the small house where Carl Bertelsmann printed his first book, the connection between past and future was palpable. [caption id="attachment_2448" align="alignright" width="300"]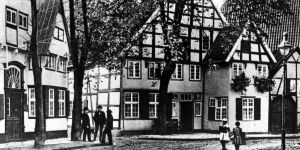 The Carl Bertelsmann House[/caption] That afternoon, in our separate Penguin Random House session, the room hummed as new ideas and perspectives were shared and new relationships formed. You can't overestimate what can be born out of a simple dialogue, and the possibilities are even greater when you consider the institutional knowledge and collective imagination that all of you have to share. Collaborating across our company, and working directly with one another, will be one of our greatest competitive advantages going forward. [caption id="attachment_2449" align="alignleft" width="300"]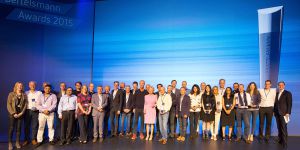 The 2015 Bertelsmann Entrepreneurial Award Winners[/caption] To that end, an impressive number of our colleagues were deservedly recognized at the BMM by Bertelsmann CEO Thomas Rabe with the coveted Bertelsmann entrepreneur award for their outstanding 2015 achievements. I'd like to personally congratulate them again. As part of my presentation at BMM, we invited Paula Hawkins and her two editors, Sarah Adams and Sarah McGrath, onstage for an interview. Nearly a year and a half after the publication of 
The Girl on Train,
 and after having sold 11 million copies around the world, Paula said of her success: "No, I still can't believe it." Sarah Adams, who said yes to the book after reading only eight chapters, also admitted that she too couldn't possibly have imagined the runaway success the book has enjoyed. [caption id="attachment_2450" align="alignleft" width="300"]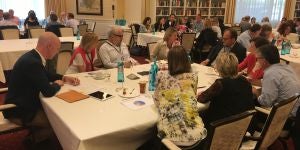 Our colleagues deep in discussion during the BMM PRH Meeting[/caption] But now, as Penguin Random House—with our combined talent, resources, and bestseller share—we've increased the likelihood that one of our books will achieve "unbelievable" success. Similarly, our completed integration means that we, as a company, can exceed our own high expectations. The necessity of collectively making thousands of decisions every day means that finding even the smallest of ways to become better at what we do can translate into continuous and large improvement across our company. As we move past the integration, I encourage us all to find the ways we can incrementally innovate: whether that's simply experimenting with an idea, welcoming a new perspective, or just having a spontaneous conversation. I think we'll surprise ourselves with what we may start. Click on the link to see how Penguin Random House is taking Bertelsmann's publishing legacy into the future: 
PRH BMM Video
Click on the link to see what an unbelievable ride The Girl on the Train has had: 
BMM The Girl on the Train Video
For additional coverage of the Bertelsmann Management Meeting, visit 
BeNet
May 19, 2016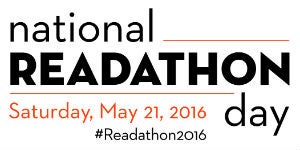 As dad to two teenagers, it was only a matter of time before I was introduced to the concept of Throwback Thursday. This week, I have a few reasons to throw back in advance of the second annual National Readathon Day, happening this coming Saturday, May 21.
expand
[caption id="attachment_1927" align="alignright" width="300"]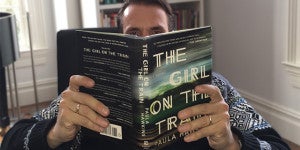 Reading The Girl on the Train in 2015 #TBT[/caption] When the trailer for the film adaptation of
THE GIRL ON THE TRAIN
 debuted a few weeks ago, I was reminded of reading Paula Hawkins's novel during the 2015 National Readathon Day, which was on January 24
last year. What an amazing ride we've had with that book—one that I know will only continue as more and more people learn about this thrilling story through the movie. Word of mouth is still the primary way that people get connected to potential new reads. Only now that "word" also gets delivered by tweets, Instagrams, and Facebook posts.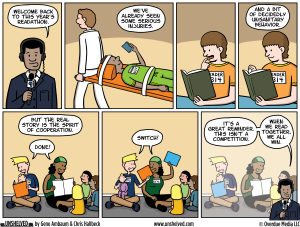 The power of grassroots movements is inspiring, and social media has brought new and powerful ways to share and connect over common causes. Just look at last year's 
Red Nose Day
 or the 
Ice Bucket Challenge of 2014
. We also can't underestimate the ability that we as Penguin Random House have to use our scale and reach for good. As a community of over 10,000 passionate colleagues, we have the potential to be more than a company. We can have an impact as a cultural institution—not just with the books we publish but through our efforts to nourish a passion for reading and to create lifelong readers. We are doing that with 
National Readathon Day
, which is partnering this year with the 
American Library Association
 and harnessing the power of connections via 
Facebook
, which lets users create custom National Readathon Day profile frames and make donations directly. You can spread the word about reading, and #Readathon2016, by updating your profile picture [caption id="attachment_1934" align="alignright" width="241"]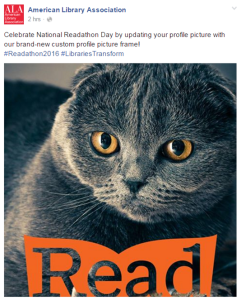 You can spread the word about reading, and #Readathon2016, by updating your profile picture[/caption] I hope that you will support and participate in 
National Readathon Day
 – it is another important way we can promote the power of books to connect and transform, all while making the communities where we work and live even better. In fact, many of us take advantage of our Service Days to volunteer in your communities, and last year alone we received tens of thousands of dollars in requests for donation matching—which I encourage you to make use of when you donate to Every Child Ready to Read in support of the Readathon, or any other causes you support. In addition to my excitement about #TBT, I have one more reason to be hashtag-happy: the start of shareable media with Igloo Share, which lets you share our stories with your world and give your friends, family, and followers a glimpse of our company from #InsidePenguinRandom. As we use our power to do good, some of our causes and stories—including this blog—will be available to share on social media. Start your sharing by letting the world know how you spend your National Readathon Day—and be sure to tag your own tweets, Instagrams, and Facebook posts with #Readathon2016. This coming Saturday, I'll be celebrating the Readathon with my teenagers and discovering my next great read. I can't wait to see the impact we'll have with 
@PenguinRandomHouse
, 
@ALALibrary
, and all of us spreading the word together across social media and, of course, IRL. Happy #Readathon2016 and happy reading! Markus