Employee Blog from Markus Dohle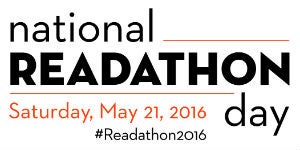 As dad to two teenagers, it was only a matter of time before I was introduced to the concept of Throwback Thursday. This week, I have a few reasons to throw back in advance of the second annual National Readathon Day, happening this coming Saturday, May 21.
When the trailer for the film adaptation of THE GIRL ON THE TRAIN debuted a few weeks ago, I was reminded of reading Paula Hawkins's novel during the 2015 National Readathon Day, which was on January 24 last year. What an amazing ride we've had with that book—one that I know will only continue as more and more people learn about this thrilling story through the movie. Word of mouth is still the primary way that people get connected to potential new reads. Only now that "word" also gets delivered by tweets, Instagrams, and Facebook posts.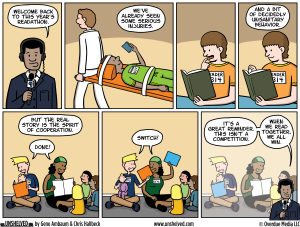 The power of grassroots movements is inspiring, and social media has brought new and powerful ways to share and connect over common causes. Just look at last year's Red Nose Day or the Ice Bucket Challenge of 2014. We also can't underestimate the ability that we as Penguin Random House have to use our scale and reach for good. As a community of over 10,000 passionate colleagues, we have the potential to be more than a company. We can have an impact as a cultural institution—not just with the books we publish but through our efforts to nourish a passion for reading and to create lifelong readers.
We are doing that with National Readathon Day, which is partnering this year with the American Library Association and harnessing the power of connections via Facebook, which lets users create custom National Readathon Day profile frames and make donations directly.
You can spread the word about reading, and #Readathon2016, by updating your profile picture
I hope that you will support and participate in National Readathon Day – it is another important way we can promote the power of books to connect and transform, all while making the communities where we work and live even better. In fact, many of us take advantage of our Service Days to volunteer in your communities, and last year alone we received tens of thousands of dollars in requests for donation matching—which I encourage you to make use of when you donate to Every Child Ready to Read in support of the Readathon, or any other causes you support.
In addition to my excitement about #TBT, I have one more reason to be hashtag-happy: the start of shareable media with Igloo Share, which lets you share our stories with your world and give your friends, family, and followers a glimpse of our company from #InsidePenguinRandom. As we use our power to do good, some of our causes and stories—including this blog—will be available to share on social media.
Start your sharing by letting the world know how you spend your National Readathon Day—and be sure to tag your own tweets, Instagrams, and Facebook posts with #Readathon2016. This coming Saturday, I'll be celebrating the Readathon with my teenagers and discovering my next great read. I can't wait to see the impact we'll have with @PenguinRandomHouse, @ALALibrary, and all of us spreading the word together across social media and, of course, IRL.
Happy #Readathon2016 and happy reading!
Markus
Posted: May 19, 2016