Employee Blog from Markus Dohle: Subway Reads Promotion Brings Our Titles to NYC Commuters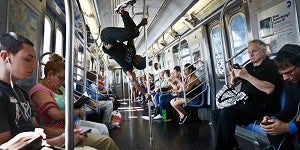 I'm proud to have now called myself a New Yorker for over eight years. Like many of you, the subway has become a regular part of my travel within the city. Over five million New Yorkers ride the subway every day, and for a countless many of them reading is as much a part of their ride as mariachi bands, dance performers, and the cozy quarters of rush hour.
Now, Governor Cuomo is adding WiFi to that list, and I am excited to announce that we have partnered with the MTA and Transit Wireless to create 'Subway Reads,' an in-transit reading experience for all those New York City subway riders. The promotion launches on August 29, and runs for eight weeks.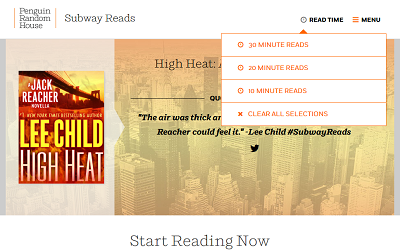 Transit Wireless has already equipped 175 stations with WiFi and plans to complete all 278 by the end of the year. Penguin Random House is doing what we do best, providing great reads – over 175 e-book samples and five free e-short stories from a variety of authors – Lee Child, Lisa Gardner, Alexander McCall Smith, Colson Whitehead, Junot Diaz, Jacqueline Woodson… just to name a few. There is a story for every New Yorker.
Visit SubwayReadsNY.com to learn more, and to see the breadth and depth of literary content we're offering: from travel guides to today's bestsellers, poetry to New Yorker essays, children's and YA titles to New York history. The selection totals 50+ hours of reading – enough content to ensure great reads on a daily commute from Downtown Brooklyn to Midtown Manhattan for the entire length of the promotion. And no matter what your subway trip, you can use the 'Read Time' function to pick a text based on the duration. For traveling between Hudson Street and 1745 the 20 minute reads are perfectly timed.
Subway Reads serves our mission to foster a universal passion for reading and to connect our stories with readers everywhere – even underground. In a city as fast-paced and electric as New York, we can celebrate the opportunity to get lost in a good book, for however long or short your ride may be. So when you're on the subway, rest assured that the next time you hear a street musician come aboard your car shouting "It's showtime!," you have over 175 stories to take you away – without the weight of a single book in your bag.

Posted: August 29, 2016