How "Rev Up for Reading" Inspires Crawfordsville Students to Read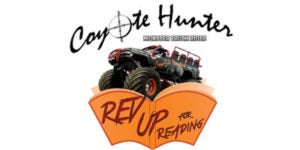 The chance to engage with a real-life Monster Truck has sparked many students' interest in reading books at a number of elementary schools in Crawfordsville, Indiana, thanks to Rev Up for Reading, a wonderful program created by Beth Hiatt, Manager, Receiving, at our Crawfordsville distribution center, and her husband. Beth explains, "With our program, teachers challenge their students to read. They set a 'minutes goal' and track their progress throughout the school year. As a reward, we bring our Monster Truck to their school towards the end of the academic year.
"We've worked with schools since 2009, usually two a year. Our first school had 330 kids who read 56,000 books in order to ride in our truck. More recently, we just do displays; let the kids see the truck; answer questions, and give away pictures, Frisbees, posters, and my favorite Penguin Random House books."
Beth branded the program Rev Up for Reading, because, "for me, this is where the rubber meets the road: My love for books and reading; and supporting reading for our youth.
"When we hear the stories about kids who could not read at the beginning of the school year; but can read by the end of the year it inspires us to do more. When we hear that kids read 30,000 minutes – that's one class of 22 – 24 students – just to see our truck, it means we are doing something right."
Look at the expressions on the faces of these children – who read for 30,000 minutes – posing with the Monster Truck. Beth and her husband deserve special commendation for the remarkable results that their program has achieved.
For more information about Rev Up for Reading, click here.
Posted: June 6, 2018