crawfordsville
June 6, 2018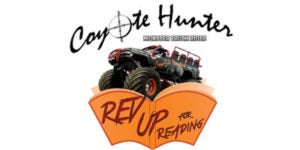 The chance to engage with a real-life Monster Truck has sparked many students' interest in reading books at a number of elementary schools in Crawfordsville, Indiana, thanks to Rev Up for Reading, a wonderful program created by Beth Hiatt, Manager, Receiving, at our Crawfordsville distribution center, and her husband. Beth explains, "With our program, teachers challenge their students to read. They set a 'minutes goal' and track their progress throughout the school year. As a reward, we bring our Monster Truck to their school towards the end of the academic year.
expand
"We've worked with schools since 2009, usually two a year. Our first school had 330 kids who read 56,000 books in order to ride in our truck. More recently, we just do displays; let the kids see the truck; answer questions, and give away pictures, Frisbees, posters, and my favorite Penguin Random House books." Beth branded the program Rev Up for Reading, because, "for me, this is where the rubber meets the road: My love for books and reading; and supporting reading for our youth. "When we hear the stories about kids who could not read at the beginning of the school year; but can read by the end of the year it inspires us to do more. When we hear that kids read 30,000 minutes – that's one class of 22 - 24 students – just to see our truck, it means we are doing something right." Look at the expressions on the faces of these children – who read for 30,000 minutes – posing with the Monster Truck. Beth and her husband deserve special commendation for the remarkable results that their program has achieved. For more information about Rev Up for Reading, click
here
.
February 7, 2018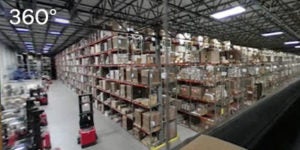 Our Penguin Random House Digital Video Team has produced a 360 video that shows, in a dynamic way, how books travel through our Crawfordsville, Indiana distribution center.  "There is so much that happens to get a book into the marketplace and everyone here is part of that," says Annette Danek, Senior Vice President of Fulfillment, who narrates the video. "Our 1,700 employees take so much pride in delivering our books with speed, accuracy and in pristine condition to our customers." 
expand
The producer of the video, 
Lydia Cornett
, Associate Video Producer, Digital Publishing Development, says, "360 video is great for immersing a viewer in a place, and Penguin Random House's Crawfordsville Fulfillment Center seemed like a particularly exciting location to do this."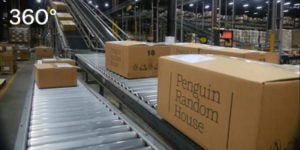 Annette offers this insight:  "Lydia and I met, and I explained what we do here in the Distribution Center and I learned about what she wanted to film. We have two different facilities so when I realized that it was a 360 degree camera I knew that we had to film in Crawfordsville as the elevations and the video path would be so much better in there due to the slight differences in conveyor design. I then had to convince Lydia to make the trip to Crawfordsville!  Once Lydia got the approvals I put her in touch with Lori Dereza (Vice President, Crawfordsville Operations) to schedule the filming. Mark Wollenberg (Assistant Director, Crawfordsville Fulfillment) did a test for us by taping a camera to a carton riding the conveyor, sorter, and fork trucks. Then we planned out the sequence for the filming." "To make a 360 video," says Lydia, "it's important to create a shot list and think about where to position the camera so that it's in the middle of the most action.  Since the camera records in 360 degrees, you also have to get into the habit of pressing record and leaving the space so you're not in the shot.  I also incorporated voiceover as a way to understand what was happening in each scene. Annette did an awesome job with explaining the process!" Annette says, "The end product is awesome and I'm excited to explore how we can use this technology again!  We can use this video to help explain the warehouse operations to new employees."  Her favorite part? "I have always wanted to ride the conveyor systems, and through this video I was able to do that."
Watch the Crawfordsville 360 video

 (For optimal viewing resolution click the gear icon in the lower right hand corner of the YouTube viewing screen, and change 'Quality' to the highest number. To get the full experience use Chrome or Firefox)
https://www.youtube.com/watch?v=UYRzcSkY0TE
June 22, 2017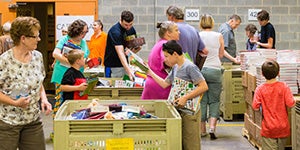 Our Penguin Random House distribution centers in Westminster, Maryland and Crawfordsville, Indiana both recently welcomed colleagues and their families to Open House events.  For a look at the informative, fun, and well-attended activities, read on. 
expand
Our 
Westminster Operations Center
 held its first Open House in ten years for employees and their families on Saturday, June 10.  There was a turnout of 650 people, who enjoyed wonderful weather and took advantage of the opportunity to see our warehouse operations.  Walking at their own pace and guided by informative signs, maps and photos posted throughout the tour route, visitors were met by 45 orange‐shirted warehouse ambassadors who shared their operations knowledge and expertise.  One comment often heard was: "I had no idea this place was so large!"  Free books at the end of the tour were a big hit. Many thanks to the Westminster Open House Team and everyone who helped make the event a success.  And a big thanks to 
Dave Thompson
, who took photos.  To view a gallery of Dave's Open House shots, click 
here
.     –
Barbara Harden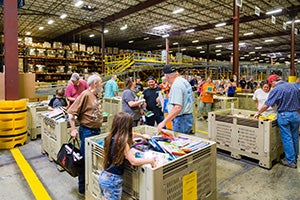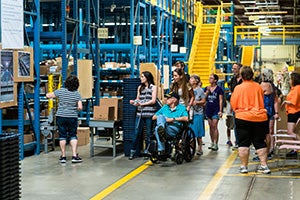 Our 
Crawfordsville Distribution Center
 opened its doors for an Open House on Saturday, June 17.  The 646 employees and family members who participated was more than double the number of people who attended the previous Open House in 2013.   Everyone was given a tour through the Returns, Loose Pick, Full Carton, Service Area and Shipping areas.  Employees were working at stations to demonstrate and explain processes and workflow.  The event ended with a book giveaway, with each visitor receiving 5 free books.  Loud applause and big thanks to the Crawfordsville Open House team, including Human Resources Assistant Director
 Jerry Henderson
, who took photos,  including the ones below.   –
Jennifer Kennedy