Inside the Westminster and Crawfordsville Open House Events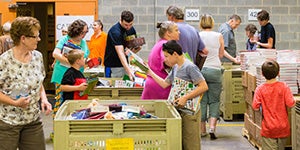 Our Penguin Random House distribution centers in Westminster, Maryland and Crawfordsville, Indiana both recently welcomed colleagues and their families to Open House events.  For a look at the informative, fun, and well-attended activities, read on. 
Our Westminster Operations Center held its first Open House in ten years for employees and their families on Saturday, June 10.  There was a turnout of 650 people, who enjoyed wonderful weather and took advantage of the opportunity to see our warehouse operations.  Walking at their own pace and guided by informative signs, maps and photos posted throughout the tour route, visitors were met by 45 orange‐shirted warehouse ambassadors who shared their operations knowledge and expertise.  One comment often heard was: "I had no idea this place was so large!"  Free books at the end of the tour were a big hit.
Many thanks to the Westminster Open House Team and everyone who helped make the event a success.  And a big thanks to Dave Thompson, who took photos.  To view a gallery of Dave's Open House shots, click here.     –Barbara Harden
Our Crawfordsville Distribution Center opened its doors for an Open House on Saturday, June 17.  The 646 employees and family members who participated was more than double the number of people who attended the previous Open House in 2013.   Everyone was given a tour through the Returns, Loose Pick, Full Carton, Service Area and Shipping areas.  Employees were working at stations to demonstrate and explain processes and workflow.  The event ended with a book giveaway, with each visitor receiving 5 free books.  Loud applause and big thanks to the Crawfordsville Open House team, including Human Resources Assistant Director Jerry Henderson, who took photos,  including the ones below.   –Jennifer Kennedy
Posted: June 22, 2017