How Seeing "Hamilton" on Broadway Inspired Melissa de la Cruz to Write ALEX & ELIZA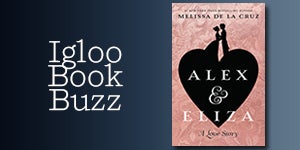 In this week's Igloo Book Buzz selection, ALEX & ELIZA: A Love Story, on sale from G.P. Putnam's Sons Books for Young Readers on April 11,  #1 New York Times bestselling author Melissa de la Cruz brings to life the romance of young Alexander Hamilton and Elizabeth Schuyler. "It is set when Alexander Hamilton is about 19 years old and Elizabeth Schuyler is 17, around 1777, until their marriage in 1780," says Ms. de la Cruz. "I thought of my book as very much a Jane Austen retelling of Alex and Eliza's story."
Ms. de la Cruz was inspired to write her book after seeing Lin-Manuel Miranda's Broadway show, Hamilton: An American Musical, which was based on Ron Chernow's New York Times-bestselling book, ALEXANDER HAMILTON (Penguin Press/Penguin Books).   As she told Entertainment Weekly: "I am a sucker for the popular girl-poor boy love story trope, from Reality Bites to Moulin Rouge. And I had always had a soft spot for Elizabeth Schuyler, whom I used in my Blue Bloods vampire books as well: my heroine Schuyler Van Alen is named after her. After we saw Hamilton, my 10-year-old daughter was obsessed with Eliza, and it was her keen interest in Alex and Eliza's story that led me to thinking that there was something more I wanted to discover more about the subject. I was originally just doing the research to answer my daughter's questions, but I got caught up in it as well.
"After we saw Hamilton, I sobbed for a good 10 minutes. I had never realized how much of an outsider I had felt to American history until we (brown people) were suddenly thrust in the center of it. It was such a profound moment for me, and I am tearing up just thinking of it. Hamilton made this bold statement that you – yes you, Puerto Rican, African American, Asian — are part of the founding father's story too. The story of America is also our story. I had never felt entitled to that before. I had never felt so embraced by American history. It was shocking how deeply I craved it, how I didn't even know how much I needed to feel that way. I'm in awe of what Lin-Manuel Miranda has done, not just as a work of art, but as a work of citizenship for all of us immigrants and people of color to be part of the greatest story of the founding of our country."
The publication of ALEX & ELIZA has generated widespread advance buzz across many national media outlets, including Entertainment Weekly, Teen Vogue, GoodReads.com, EpicReads.com, Brit + Co, Bustle, Broadway World and PopSugar, among a host of others.
The author's upcoming appearances include the LA Times Festival of Books  (April 23), YALLWest (April 29) and BookCon (June 3-4).
Posted: April 10, 2017