More Appreciation: #tomyteacher PRH Education Teacher Tribute Campaign With NCTE Extended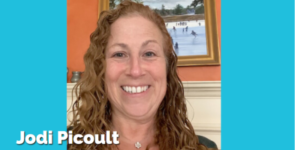 #tomyteacher, the week-long nationwide campaign honoring America's teachers undertaken by the National Council of Teachers of English (NCTE) and Penguin Random House Education, is so successful it is being extended another two weeks. Originally timed for Teacher Appreciation Week (May 4-8), it now will run until Monday, May 25, in partnership with the licensed literary-themed apparel and accessories Penguin Random House company Out of Print and online education company Hot Chalk.
The main attractions of the campaign are the twelve individual videos, organized under the auspices of PRH Education and posted to the NCTE site, from renowned Penguin Random House authors offering eloquent and poignant testimonials to an educator who inspired them to become writers. Everyone is welcome to share the author presentations–and to offer their personal messages of support to a favorite teacher on their own social media.
Also, a portion of the proceeds from designated book-related items purchased on the Out of Print site using the code TEACHER25 is being donated to NCTE teacher-outreach support. In the first three days, nearly 500 participants have used the code, making it one of OOP's most active such efforts.
Michael Gentile, Vice President, Sales and Marketing, Penguin Random House Education, said, "We and NCTE fervently believe public appreciation of America's teachers is not just a one-week opportunity, so we are thrilled to extend our tribute to them. Now, many more visitors to the NCTE site can be inspired by these authors' testimonials to their cherished educators, thus encouraging their own social-media expression with #tomyteacher."
Click here to see the Jodi Picoult video.
Click here to visit the NCTE site to view all the videos.
Click here to learn more about #tomyteacher,
Posted: May 8, 2020