My Path to Penguin Random House: One World's Lulu Martinez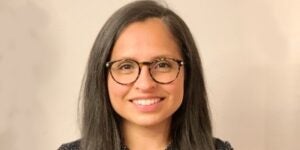 Everyone has unique career stories to tell. In our new Igloo series, My Path to Penguin Random House, PRH colleagues share how they entered the world of book publishing, what led them to our company, insights into their jobs, and their future professional aspirations.
This week, we're featuring Lulu Martinez, Director of Marketing at One World. She joined Penguin Random House in December of 2020.
How would you describe the course of your path to book publishing and Penguin Random House, including prior practical, professional, and educational experiences?
My path to PRH and book publishing is not traditional at all. I'm from Mexico and my undergrad degree is in marketing but I attended university at a time when MySpace was king, so suffice to say marketing has changed significantly since then. After graduation, I did a series of different jobs, including the Korean Embassy in Mexico City and a steel mill in the middle of nowhere. But then I visited NYC for the first time in the winter of 2012 and I knew I wanted to move there. The path to do so was grad school, so I enrolled in the MS in Publishing at Pace University, and through that I landed my first internship at Writers House.
It was intimidating to be interning there alongside some extremely talented people (many of whom were younger than me), but I can confidently say that year as an intern changed the course of my career. Not only was I putting into practice what I was learning at school but I was also meeting people across the industry who were doing the jobs I wanted to do. After getting my masters I landed my first job as marketing and publicity assistant at Kensington Publishing, where I was working on women's fiction and diverse titles. In a short time I worked my way up to manager, overseeing the lead fiction books. I later moved over to HarperOne where I focused on marketing at the Amistad, HarperVia, and Harper Español imprints.
How I ended up at Penguin Random House is a funny story. I was contacted by PRH's HR department. They told me there was an opening and asked to meet for a chat. When I saw the imprint was One World, I couldn't believe it! I had a series of interviews (one with a bad Webex fail) and got the job. I've been here since December 2020 as Marketing Director for One World.
What attracted you to the company, and what have been some of the highlights of your PRH job and work life so far?
One of the things I value most is being able to collaborate with the resourceful and incredibly knowledgeable people at PRH on marketing campaigns, like the analytics team, the ad ops team, and the media buying team. I'm grateful to work with people who I learn from every day and whose expertise makes our campaigns much more rich and impactful.
It is hard to narrow down the highlights of my time at PRH, but one of my top three is The 1619 Project. I think of it as a career changing and life changing book. It challenged us to create a campaign that didn't adhere to the traditional book marketing template and also gave us a purpose that went beyond book sales. Another top moment was when I met Karla Cornejo Villavicencio online. Her book, The Undocumented Americans, is one of my favorite books of all time. Though I only saw her once, in my mind we are good friends.
Joining a new company in the middle of a pandemic wasn't easy, but the One World and Random House people made it smooth sailing and made me feel at home.
How do you view the future, in terms of personal aspirations and career goals?
The way people consume content and the way we reach our consumers is changing, and I find that exciting. I'd love to keep working on books that are subverting dominant narratives and with authors who are changing the world, and I'd like to create seasonal marketing campaigns that are aligned with the current state of American affairs. I'd love to work with new teams and meet more people across PRH.
Attention PRH colleagues: If you are interested in participating in the My Path to Penguin Random House series or have someone to nominate, please email igloo@penguinrandomhouse.com.
Posted: February 10, 2022