My Path to Penguin Random House: PPG's Susan Schwartz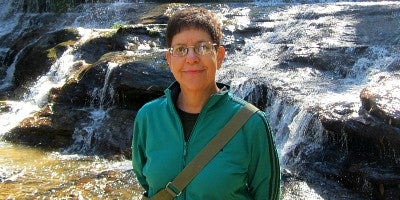 Everyone has unique career stories to tell. In our My Path to Penguin Random House series, PRH colleagues share how they entered the world of book publishing, what led them to our company, insights into their jobs, and their future professional aspirations.
This week, we're featuring Susan Schwartz as she tells us her story in her own words in what often reads as a love letter to publishing.
Here is Susan's story, in her own words.
How would you describe the course of your path to book publishing and Penguin Random House, including practical, professional, and educational?
My path to Penguin Random House began a long, long time ago. 
I was an English major at the State University of New York at Stony Brook. When I graduated, I received an offer from the accounting department at Harry Winston, the jeweler on Fifth Avenue in New York; and for an entry-level job, the pay was pretty good. My parents said: If you want to hold out for a job in publishing, we support you. They knew how much I enjoyed reading. 
Eventually, I was offered one of two jobs in the Dell / Delacorte managing editorial department:  as a managing editorial assistant, or as an in-house copy editor. I chose the managing editor job. 
Within about two weeks, the man who hired me left, and I was on my own until someone new was hired to oversee the department. I discovered I had a knack for "keeping things on track," since the staff looked to me, fresh out of college, for how to handle the workload. 
That was in 1975. 
So my journey is more of one through time, as opposed to places or companies. 
Just imagine, if you can: There were no personal computers; there was no internet; no email; there weren't even fax machines. People still listened to music on eight-track tapes. My desk had a telephone and a (broken) typewriter. That was it. The shelves and cubbyholes near my desk, where work would come in from production and go back out after being marked up, were piled high with long galleys sheets and jacket mechanicals. (Jacket copy was sent out to a vendor for setting; and then the art department had to paste the pieces onto long cardboard mechanical boards; corrections were marked on a tissue overlay.) On a few occasions, when books were "crash," the editor, a copyeditor, and I had to travel to the compositor and stay overnight to check the galley sheets, as they got printed. 
What have been some of the highlights of your PRH job and work life so far?
Eventually I worked with both adult titles and young adult books for Delacorte Press. In the early years, I worked with Eleanor Friede, who published Jonathan Livingston Seagull; and Jeanne Bernkopf, a very well-respected editor in the industry, who edited James Clavell. Two of the other brilliant people I worked with were Seymour (Sam) Lawrence, who had his own imprint and published Kurt Vonnegut, among many other authors; and his wife, Merloyd Lawrence, who only recently passed away. She was responsible for the landmark, seminal four-color book, A Child Is Born by Lennart Nilsson. I think I am only one left who knows—the Swedish files were sent to the wrong address in NYC; thankfully I was able to track them down as the nice folks where they were sent figured out where they were supposed to go. People like Sam and Merloyd helped shape my publishing career. 
Typed manuscripts in boxes were the order of the day for many, many years. (I do have a fond memory of Diana Gabaldon's editor, Jackie Cantor, stopping by my office many times to put more and more of the OUTLANDER manuscript on my floor; it was too big for a box.) 
Eventually my job became part of Bantam Doubleday Dell.  
Of course, years passed, I grew older, and the way we all work changed seismically. Typewriters gave way to word processors and floppy disks; I eventually worked in WordPerfect, with a black screen and orange type, and used dot matrix printers. I recall being called in for a demonstration / presentation about CDs. There was oohing and ahhing over how much information could be contained on CDs—a whole encyclopedia!! Wow! And eventually the World Wide Web came into play in the late eighties/early nineties. I worked with Carole Baron, a giant in publishing … and I'm pretty sure that somewhere around 1996 or so, a young woman named Madeline McIntosh joined our editorial meeting to talk about new media. 
I had a brief break in 1999, when some BDD departments, such as managing editorial, were combined. Thankfully, a managing editorial job opened up in Dutton Adult books in 2000, where I worked once again with Carole Baron, and Brian Tart, the best anyone could hope for. Maeve Binchy, bless her soul, Danielle Steel, Tracy Chevalier, Elmore Leonard, Harlan Coben, Ken Follett, Eric Jerome Dickey, Fiona Davis—these are just some of the authors whose books I've had the pleasure to work on and help steer through the publishing path. I love that being in managing editorial gives you a real education in / overview of the entire publishing process, from editorial to production to marketing to inventory, and other departments as well. 
How do you view the future, in terms of personal aspirations and career goals?   
Desktop computers; laptops; ebooks; PDFs; email; the internet; Google; cloud storage; TikTok; Zoom; a pandemic that changed how we all work forever; long-overdue DEI initiatives—all came about in my decades of work.  But publishing itself? It's still about books. Books people love to read. I am eternally grateful for that day in 1975 when I was hired to WORK ON BOOKS! Could anything be any better? And here I am, still at PRH, as an executive managing editor for Dutton, Plume, and Tiny Reparations Books, working with Meredith Dros, Christine Ball, Jill Schwartzman, and John Parsley, among (many talented) others, which is a truly marvelous thing. My long and happy years associated with PRH have taught me that the world may change, companies may merge, technology may change, but people will always read books. As long as I am involved in that in some way (and if the Mets win another World Series), my life is happy. 
What's your desert island book?
I'd take ALL of Dutton's Riley Sager books with me to read on a cozy couch on a desert Island.
Posted: September 14, 2022