My Path to Penguin Random House: PPG's Susette Brooks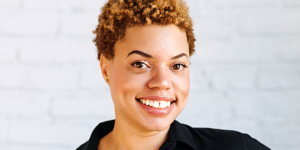 Everyone has unique career stories to tell. In our My Path to Penguin Random House series, PRH colleagues share how they entered the world of book publishing, what led them to our company, insights into their jobs, and their future professional aspirations. This week, we're featuring Susette Brooks, Director of Strategy, Diversity, Equity, and Inclusion, Penguin Publishing Group. 
Here is Susette's story, in her own words.  
How would you describe the course of your path to book publishing and Penguin Random House, including practical, professional, educational, and in your case, military experiences?  
My career in publishing was somewhat unexpected. I went to a technical high school in North Jersey where I studied culinary arts, and I planned to continue on that path after graduation. At 17, without much guidance, I took the bus into New York City alone to visit the French Culinary Institute. I was mesmerized by the serious students and professors who viewed cooking as a high form of art. I wanted to be like them and a part of that community. That is, until I saw the price tag. In 2005, the 6-month program cost $60,000. I didn't know how much money my single mom had but I knew she didn't have that. Reluctantly, I enrolled in a local university because at least there I could apply for financial aid. 
I spent two years at university studying finance before I realized I hated that major. As a first-generation college student, I had no clue what I was doing, but I knew I needed a new direction. So–I signed a contract to join the New Jersey Army National Guard. The idea came to me after seeing a friend come home after basic training with a new car and more money than I could imagine at the time. Also, my older brother inspired the decision. He died suddenly weeks before his high school graduation and his impending enlistment into the Army Reserve. I joined the NJARNG, in part, as service to his memory. A few months later, I flew to Fort Jackson, South Carolina to attend basic combat training. That incredible experience had me jumping off five-ton trucks, firing every weapon in the Army's arsenal, and training next to soldiers from every corner of America. 
Back home and in college, a geography professor suggested I was a decent writer and should think about a writing career. This single piece of advice put me on my path to publishing. While working full-time, first in budget management and then in public relations and marketing, I finished three degree programs, including an MFA in nonfiction at Goucher College where I met the illustrious Porscha Burke. She encouraged me to apply for a job at PRH, and in spite of my many doubts, I took her advice. Now, I'm working a dream job that was too good to imagine.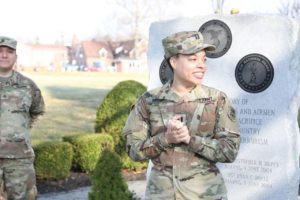 What attracted you to the company, and what have been some of the highlights of your PRH job and work life so far?  
I had been working in the NJARNG full time as a budget analyst, managing a $20 million budget. I was incredibly young and fortunate to land in a powerful position where I approved purchase requests for soldiers' uniforms and meals and parts for vehicles and other equipment that keeps the National Guard running. I gained a tremendous amount of experience and respect from leadership. However, I wanted to say more and do more. When I told my colleagues that I wanted to be a writer and pursue some form of publishing, many people laughed at me. Why would you ever leave a stable government job to…tell stories? My ambitions seemed frivolous to most, and they were indeed scary. Still, I packed my bags, moved to Baltimore alone, and started a new job at a college that eventually brought me to this moment. 
After a long journey from academia to a nonprofit then to a state library, I was hired as the Director of Multicultural Marketing at PPG. The role was the first of its kind in the division and offered me the exciting opportunity to forge a new path and create something in my vision with full autonomy and support from my supervisor and colleagues. I had a lot of self doubt back then, but I leaned into some of my strengths: providing service to others, connecting people to resources, and understanding an audience's needs through empathy–which all happen to be my favorite parts of the job. I love the moment when my idea sparks a new direction for a marketing campaign or when a resource that I developed helps a colleague feel better equipped to do their job. 
 How do you view the future, in terms of personal aspirations and career goals?   
As a captain in the NJARNG (where I still serve part-time as a public affairs officer) and as the newly-appointed Director of Strategy, Diversity, Equity, and Inclusion at PPG, I want to continue to lead teams into the future of these respective industries by developing creative solutions to our challenges, finding innovative ways to share stories and connect to a multicultural audience, and promote a culture that is constantly redefining its role and responsibility in the marketplace.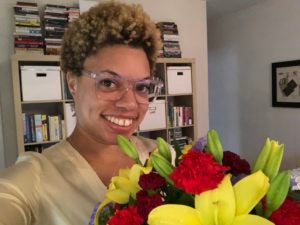 Susette Brooks is the Director of Strategy, Diversity, Equity, and Inclusion at Penguin Publishing Group where she develops business processes and strategies that foster a culture of diversity, equity, and inclusion; leads DE&I initiatives supporting recruitment, training, company culture, leadership investment, and market reach; and advises marketing, advertising, and publicity teams on inclusive marketing strategies that expand opportunities for business growth multicultural audience outreach. 
 Attention PRH colleagues: If you are interested in participating in the My Path to Penguin Random House series or have someone to nominate, please email igloo@penguinrandomhouse.com. 
Posted: July 6, 2022