My Path to Penguin Random House: RH Marketing's Chantelle Walker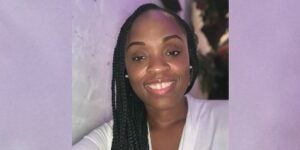 Everyone has unique career stories to tell. In our My Path to Penguin Random House series, PRH colleagues share how they entered the world of book publishing, what led them to our company, insights into their jobs, and their future professional aspirations. This week, we're featuring Chantelle Walker, Random House Senior Marketing Manager for the Crown, Currency and Hogarth imprints.
How would you describe the course of your path to book publishing and Penguin Random House, including prior practical, professional, and educational experiences?
When I was in college I had an advertising internship with the local newspaper. It was an eye opening experience, as I had never really considered publishing as a career option. But I quickly realized I was not interested in the fast-paced environment when working for a daily publication. The turnaround time for content was pretty intense. Instead, it reminded me about my original love and passion for reading.
As I scoured all the different job sites for summer internships, I decided to look into book publishing. I went to the bookcase in my home and looked at the back covers of some of my favorite books to find out who the publishers were. I went to the websites of both large and small publishers and applied to all that had internship programs. I landed a marketing internship at Simon & Schuster. It was a wonderful experience, as the program was quite structured and provided real insight into the world of book publishing, which is so much bigger than editorial.
After graduation, I received my first job offer as a Sales Assistant at Penguin Group. Though I knew long term I did not want to be in Sales, it provided me the opportunity to learn about all the different departments of publishing as well as some of the intricacies of how we approach different genres. From there, I explored both academic and medical publishing in roles at McGraw Hill, Taylor & Francis and Springer Nature. I focused on the marketing of both books and journals. But I felt a bit detached from the material I was working with. I yearned to get back into trade publishing, to work with content I had a real interest in. This pushed me into my current role as a Senior Marketing Manager for Crown, Currency and Hogarth.
What attracted you to the company, and what have been some of the highlights of your PRH job and work life so far?
Working at Penguin Group (pre-merger) already gave me some insight into PRH. When I left my last position, I was I really looking forward to a more fast-paced job with great opportunities for career growth and personal development and PRH has not let me down. Some of the highlights of my job so far have been working on titles such as Probably Ruby by Lisa Bird-Wilson and Bittersweet by Susan Cain. It has been such a rewarding experience to see the direct effects of hard work. The feeling of walking into a bookstore and seeing books that I've worked on is still a sparkling one. During the first few months at PRH many people reached out to set up Zoom coffee dates, offer training, or just to say "hi." This was incredibly helpful as my onboarding occurred during the fully remote part of the pandemic. There is truly a team, all hands on deck, ethos that I have come to appreciate.
How do you view the future, in terms of personal aspirations and career goals?
Now that I have a year under my belt in my current role I am really looking forward to working on diverse titles, across imprints and partnering with various marketers. Learning and viewing how others are marketing and positioning their titles has been an invaluable experience. The goal will always be to find new readers for our books, hopefully in new and exciting places.
Attention PRH colleagues: If you are interested in participating in the My Path to Penguin Random House series or have someone to nominate, please email igloo@penguinrandomhouse.com.
Posted: May 5, 2022