My Path to Penguin Random House: Sales and Customer Ops' Jennifer Steinhurst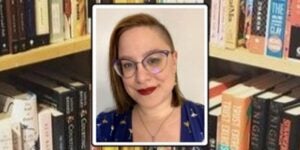 Everyone has unique career stories to tell. In our My Path to Penguin Random House series, PRH colleagues share how they entered the world of book publishing, what led them to our company, insights into their jobs, and their future professional aspirations.
This week, we're featuring Jennifer Steinhurst, Analyst, Customer Operations. Here is her story:
How would you describe the course of your path to book publishing and Penguin Random House, including prior practical, professional, and educational experiences?
I took a very circuitous route to PRH. I started as a bookseller when I was just 17 with my local Waldenbooks. I stayed with them and then Borders as they re-branded, but left just before they filed for Chapter 11 (RIP Borders) after nearly a decade. Books were always my first love, but I ended up getting into non-profit fundraising work as I wanted to help out my community. I worked for a myriad of non-profits, from community-based to institutional advancement with a nationally-accredited college.
When I moved to Maryland in 2013, I was shocked as I was driving around to see a large RANDOM HOUSE sign on what I now know is our Westminster distribution center. While I worked for a small non-profit for a while after that, I couldn't stop thinking about that Random House sign. On a whim, I put in an application to our Customer Service team and was so surprised when I got a call back! Of course, they were hiring up in the wake of the merger, so I had picked the perfect time. My Customer Service job ended up turning into a position with Customer Support and Analytics, and now, for the last two and a half years, with the Customer Operations team. Along the way, I was able to learn and explore the fact that I loved to research and create visualizations of large data sets, as well as having a penchant for breaking down large-scale concepts into their component pieces. PRH has allowed me to dig deep into my analytic skills throughout all my positions and since Sept 2020, I have been taking advantage of the tuition reimbursement benefit to go back to school to get my Bachelor's in Data Management and Data Analytics.
What attracted you to the company, and what have been some of the highlights of your PRH job and work life so far?  
The books, of course! Seriously, PRH is a pillar of the Westminster, MD community and I had heard from several local friends that the benefits couldn't be beat. Once I got here, I knew that I was in the right place; where else could I get this many weeks of vacation to do the travelling I've always wanted to do? As for the highlights of my work life so far, I will have to give kudos to my whole team on how we responded to the COVID-19 pandemic. We were able to support our customers, our distribution clients, our publishers, and sales with our ability to be flexible and pivot as quickly as we did. A second highlight would have to be the huge project of upgrading our metadata feeds to ONIX 3.0, which is the newest international standard for books. This was a project that spanned nearly a year, involved over a dozen teams here at PRH, and required outreach to each and every one of our customers.
What takeaways did you gain from your role in the non-profit industry and returning to PRH?
My roles in non-profit allowed me to really see the way data played such a large part of every day life. From when we answered our phones (there's a reason your college alumni fund calls you at a certain time of the night), to economies of scale (working for an umbrella fund meant that we could pool the community resources and help even more people), to the benefits of reflecting on your project progress. The last was especially important as I moved to the Customer Operations team, as we are almost completely project-based, and looking back at both the ROI and the places where we could have done better has been invaluable.
How was the switch to remote work for you and how has it impacted your experience with your current team?
We've actually gotten closer! I was always remote, as I was working out of the Westminster, Maryland office. Since the beginning of our work from home days in March 2020, we've had a 15 minute team check-in every morning to talk about everything – how our weekends were, what we're watching on TV, or anything else. It's allowed me to really have that fun personal time that I normally would have only gotten if I'd been sitting at 1745 Broadway with my team. For me, remote work has been a blessing and our team has only gotten stronger.
Attention PRH colleagues: If you are interested in participating in the My Path to Penguin Random House series or have someone to nominate, please email igloo@penguinrandomhouse.com.
Posted: July 25, 2022