My Path to PRH: Aurora Slothus on Thriving in the Wild West, AKA Backlist Publishing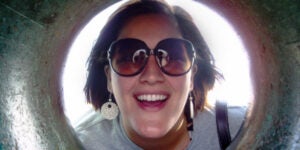 Everyone has unique career stories to tell.  In our My Path to Penguin Random House series, PRH colleagues share how they entered the world of book publishing, what led them to our company, insights into their jobs, and their future professional aspirations. 
This week, we're featuring Aurora Slothus, Assistant Director of Backlist Publishing for Berkley, Putnam, Dutton, and Plume, as she tells us her story in her own words.
How would you describe the course of your path to book publishing and PRH, including practical, professional, and educational?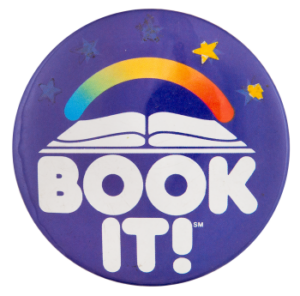 My obsession with books started early. When I was around seven years old I discovered the pure joy of being able to pick out my own books at the library. There's this wonderful children's fantasy novel by Patricia C. Wrede called DEALING WITH DRAGONS that opened up my whole world. It's about a princess who would rather be an adventurer than a damsel in distress and it is still my favorite book to this day. Growing up I read as many books as I could get my hands on, to the point where my parents would send me to my room with the punishment of "NO READING!" when I misbehaved. If anyone remembers Pizza Hut's "Book It!" reading reward program from the '90s, let's just say I read my way to a lot of free pizza.
By the time I finished high school I was pretty certain I wanted to work with books in some way, and I tried to set myself up for that eventuality by figuring out how to be a good writer, getting an English degree, and pursuing internships with publishers and literary magazines. Like a lot of people I thought I wanted to be an editor, but I started at PRH by interning with the Berkley Copy department. Copywriting combined two of my favorite things: reading stories and creative writing—but only 200 words at a clip! When I was hired full-time I figured I would switch to editorial when I could, but I wound up falling in love with copy and stayed with that team until I moved over to Berkley, Putnam, Dutton, and Plume backlist.
Now I get to work on repackage projects, movie tie-ins, and fabulous deluxe editions with all the bells and whistles. It's so satisfying seeing titles that have been forgotten come back to life and beloved books take on new forms. I've been with PRH my entire career, and I'm still just as much in love with books as when I was seven.
What one tip would you give to an intern who's looking to secure a full-time position?
My biggest piece of advice is to be confident in your own abilities when taking on new tasks, even if you wind up outside your comfort zone. I remember on the first day of my internship my boss gave me a manuscript and said, "Read this, then write some copy." I was shocked she wanted me to work on an actual, soon-to-be published book! I thought I was going to start off with something safe like admin tasks.
After shaking off my nerves I jumped right into the deep end of the copywriting pool and took on as much as anyone was willing to give me. This led to a job offer when the stars aligned and a full-time position opened up near the end of my internship. There was definitely an element of being in the right place at the right time, but if I hadn't been so ready and willing to work on every untitled western that came my way, things might have gone differently.
What have been some of the highlights of your PRH job and work life so far? Has anything surprised you?
So many things have surprised me, including how my career has turned out and all the things I never imagined I'd get to do. I've had countless memorable moments. Some really good ones are: finding the first title I wrote copy for on a bookstore shelf; finally seeing our DUNE movie tie-ins make it to market after several years of constantly shifting film and publication release dates; experiencing the weird and wonderful environment of Comic Cons with fellow book lovers; being able to dress up and go to an actual star-studded movie premier!
Flashy highlights aside, my very favorite moments have been when a project goes wrong. Stay with me here, I know that sounds crazy…. It's those times when the due dates are looming and everything is late and nothing is going to plan, but the people involved somehow make magic happen and everything works out in the end. Backlist publishing is a little bit like the wild west, and thankfully I work with an exceptionally skilled posse who are willing to get their hands dirty.
In your nearly 15 years with PRH, how have you navigated career growth?
My career has definitely had some unexpected twists and turns. The mindset that has served me best is to try and take on new challenges with no—or at least with very few—reservations. Starting out, I never expected that I'd someday have a hand in reshaping our books for a new audience or be the person talking to studios about movie tie-ins. I thought I'd be crafting cozy mystery puns until I retired. Don't get me wrong, I'll still knock out a good pun for anyone who asks! But by choosing a different path when the opportunity came I've ultimately been able to acquire a wide variety of skills, work on interesting and fulfilling projects, and interact with so many amazing teams across the whole company.
Tell us about your hobbies! How do they inform your work-life balance?
I try not to take myself too seriously and also get easily distracted, so over the years I've collected hobbies like trading cards. There's just so much to learn and not enough time! I am a gigantic music, movie, and television buff, which makes my tie-in responsibilities a total thrill. I've also picked up several things of which I can do a little, sometimes badly (various musical instruments, make-up, amateur home repair, ill-advised thrill seeking). For a hot minute I got really into cooking and almost took a detour to culinary school.
The two interests that have really stuck are travel and photography, which go beautifully hand in hand. I enjoy taking landscape photos and macro photos of flowers and plants, exploring nature extremely up close and on a grander scale. I make excellent use of our vacation day policy and get away with friends and family a few times a year. So far I've visited four continents and have three to go!
In general, there's still a million things I want to see and learn and do. I'll probably continue to get infatuated with various hobbies, if only for a short while. But no matter what, I'll always be reading.
Posted: February 24, 2023