My Path to PRH: Jessie Stratton on Trying New Things and Giving TikTok a Chance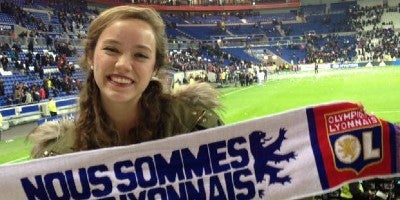 Everyone has unique career stories to tell. In our My Path to Penguin Random House series, PRH colleagues share how they entered the world of book publishing, what led them to our company, insights into their jobs, and their future professional aspirations.
This week, we're featuring Jessie Stratton, Marketing Associate at Penguin Press, as she tells us her story in her own words.
How would you describe the course of your path to Penguin Random House, including practical, professional, and educational?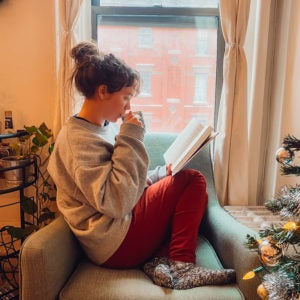 I graduated from James Madison University with a Bachelor of Arts in Psychology and French and my first job post-graduation was as an English teacher under the Teaching Assistant Program in France (TAPIF), a program sponsored by the Cultural Services sector of the French Embassy in the United States. In Lyon, France, I taught English in a technical high school and middle school for 9 months. At the time I was interested in pursuing translation and joined a French to English translation team at my church in Lyon which was a great experience; learning to do this was very humbling and taught me to be patient with myself when learning a new skill. When I returned to the US, I worked for 2 ½ years at the Alliance Française in Washington, DC — a French language and cultural center with classes and events.
During this time I became interested in publishing after I read a book where the main character was an editor. With no information on or connections to the industry, I spent the next two years taking online editing classes, interning in the editorial department at a small publishing house in DC called Island Press, and freelancing to gain experience. I was accepted to the Columbia Publishing Course in March of 2020 and after several postponements, decided to pursue another internship. It was while interning with Melville House that I reignited my love for marketing and social media, and that job is what led me to Penguin Press, where I became part of the team in February 2021.
You're the original creator of the Penguin Press Adult TikTok account. What was most surprising about this endeavor for you?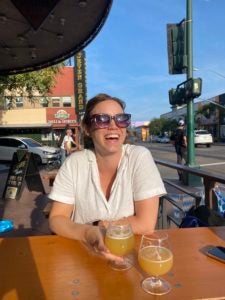 This is a great question! The most surprising aspect of being the face of the Penguin Press TikTok account is how intense the learning curve is! I spent countless time on YouTube and asking my Penguin friends at ATP for advice before we really took off. I didn't set out make something big of the platform, but have found that I really enjoy it as a creative outlet against my other responsibilities at Penguin Press. The fact that it's also a very informal platform—which somewhat goes against the kind of books we publish—has been interesting because we are primarily known for publishing serious nonfiction. It's been nice to bring the name Penguin Press to new audiences that are on the app. It's also a LOT of work, but I appreciate this challenge.
What book has excited you the most in your marketing career? Why?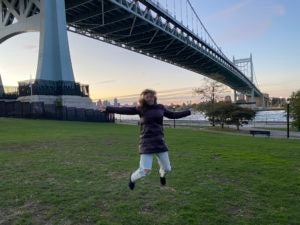 For this I have two answers. The first is Irish poet Sean Hewitt's memoir, ALL DOWN DARKNESS WIDE. This was my first solo marketing project so naturally I feel an affinity toward it. I was so moved by Hewitt's journey and vulnerability that it was really an honor to bring this book to many LGBTQ+-identifying people who have unknowingly been seeking to read about an experience similar to their own. It was wonderful to get creative with this project! I couldn't stop talking about this breathtaking book that my cousin even gifted me a pair of earrings of the book cover!
The second has to be Celeste Ng's newest novel, OUR MISSING HEARTS. It's exciting to be part of a really big project like this where you have lots of resources on-hand, people involved, and a lot of creative ideas to play with. Helping my team successfully bring this to publication has taught me a lot of new skills. I organized a book drop with Little Free Libraries which was the first book drop Penguin Press has done. Being able to do a few "firsts" like this has been rewarding.
What advice would you give to folk interesting in pursuing the marketing side of publishing?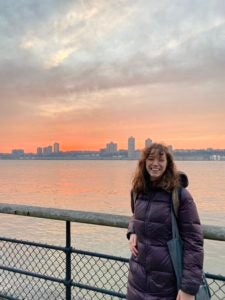 Marketing is all about bringing a book to a consumer, or if you want to get more passionate about it, bringing stories to readers. I've always loved and appreciated the enthusiasm of readers, and getting to interact with them by sharing powerful and important books is wonderful. For people interested in marketing, I'd say have an open mind and don't be afraid to bring ideas to the table. Sometimes the best ideas come from brainstorming as a group, and I've learned to share my ideas even if they seem improbable or not right for a particular book. It's always worth sharing in case something inspirational comes from it. Being willing to try new things also goes a long way; this I learned from maintaining our TikTok account. When friends of mine used to send me TikTok videos, I avoided watching because I didn't want to get caught up in yet another social media app. I also had a misconstrued vision of what the app provided. I didn't expect that I'd first download TikTok for work, but by giving it a chance I allowed myself to be vulnerable, in a way, and engage with readers in a whole new light.
Posted: December 6, 2022