Nearly 60 Colleagues Featured on George Saunders' LINCOLN IN THE BARDO Random House Audio Title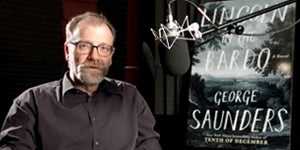 An unprecedented cast of 166 different voices narrate the Random House Audio edition of LINCOLN IN THE BARDO, the first novel by George Saunders, bestselling author of TENTH OF DECEMBER and a National Book Award nominee. Nearly 60 Penguin Random House colleagues (scroll down to see the list of names) are featured as part of the audiobook cast, led by such award-winning actors as Nick Offerman, Carrie Brownstein, Lena Dunham, Ben Stiller, Julianne Moore, Susan Sarandon, Bill Hader and Rainn Wilson. A number of musicians, fellow authors, Saunders' family and friends also participated. Kelly Gildea directed and produced this audiobook. Random House publishes the hardcover and eBook editions.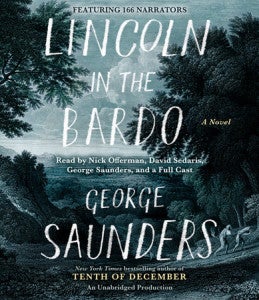 Unfolding in a graveyard over the course of a single night and narrated by a dazzling chorus of voices both living and dead, LINCOLN IN THE BARDO is an exploration of struggle, death, love and the powers of good and evil. On February 22, 1862, a grief-stricken Abraham Lincoln visits the crypt where his eleven-year-old son was just laid to rest so that he might hold his boy's body once more.
LINCOLN IN THE BARDO is a story told in a thrilling new form that features a theatrical panorama of voices, which reflect how varied the America of that time was by using high diction and low diction, along with beautifully articulate 19th century letters and obscene rants. The audiobook simulates that diversity of voice intended within the book. "I love the idea that by casting actors and non-actors," Saunders says, "we were able to simulate that 'I hear America singing' notion."
Watch  this video: George Saunders on the LINCOLN IN  THE BARDO Audiobook
Here is the complete list of participating Penguin Random House colleagues, preceded by the characters (in order of appearance) they gave voice to:
DAVID VON DREHLE – Benjamin Dreyer
MRS. KATE O'BRIEN – Barbara Fillon
ANN BRIGHNEY – Mika Kasuga
BERNADETTE EVON – Dhara Parikh
DOLORES P. LEVENTROP – Molly Turpin
I.B. BRIGG III – Greg Kubie
ALBERT TRUNDLE – Lane Jantzen
MAXWELL FLAGG – Richard Romaniello
TYRON PHILIAN – Jeff Kenyon
A SPRINGFIELD NEIGHBOR – Amanda D'Acierno
SIMON WEBER – Michael Goldsmith
SIMON IVERNESS – Joe Scalora
BENJAMIN BROWN FRENCH – Andy Hughes
MR. MAXWELL BOISE – Andy Ward
JASON TUMM – Dan Musselman
SOLDIER (from Bell/Trust) – Noah Eaker
C.R. DEPAGE – Louise Quayle
JAYNE COSTER – Hilary Redmon
JAMES R. GILMORE – Ben Greenberg
MARTIN P.S. RINDLAUB – Aaron Blank
ROBERT WILSON – Robert Guzman
F.B. CARPENTER – Peter Mendesund
JOHN S. BARNES – Simon Katz
JOHN WIDMER – Michael Gentile
THE UTICA "HERALD" – Richard Wylde
ORLANDO B. FICKLIN – Phil Stamper-Halpin
JAMES MINER – Mike Murray
A JOURNALIST (from Piatt) – Sean Baker
HORACE WHITE – Cesar Guadamuz
SENATOR JAMES HARLAN – Eric Lovaas
NATHANIEL HAWTHORNE – David McLaughlin
CORDELIA A.P. HARVEY – Susan Kamil
CHARLES A. DANA – Patrick Billard
ABRAHAM M. GORDON – Oliver Mundy
EDWARD J. KEMPF – Tom Russell
REV. GEORGE C. NOYES – Simon Tepas
CLARK E. CARR – Bill Rood
COLONEL THEODORE LYMAN – Bob Quinto
W.A. CROFFUT – Henry Williams
ALLEN THORNDIKE RICE – Thomas Perry
DAVID LOCKE – Dan Zitt
LARRY TAGG – David Weller
GEORGE B. MCCLELLAN – Hugo Bressin
EDWARD EVERETT – Pat Stango
CONGRESSMAN CHARLES FRANCIS ADAMS – David Haase
TOBIAN CLEARLY – David Phethean
JAMES SPICER – Greg Wilson
B. MILLBANK – Robin Schiff
THEODORE BLASGEN – Michael Rotondo
MAUREEN H. HEDGES – Jennifer Rubins
ELIZABETH TODD GRIMSLEY – Alaina Waagner
LEONARD SWETT – Sam Nicholson
"LINCOLN LORE" – Leigh Marchant
THOMAS J. CRAUGHWELL – Jeff Weber
EMILY WEDGE – Caitlin McKenna
MATHILDE WILLIAMS – Avideh Bashirrad
MRS. ANTOINETTE BOXER – Kelly Gildea
Posted: February 13, 2017