Our #BannedBooksWeek Reading List: Part 2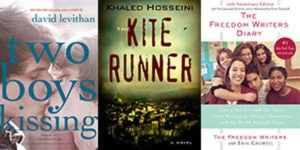 Throughout Banned Books Week, September 24 – 30, Penguin Random House will be highlighting frequently banned and challenged books to help raise awareness of the importance of defending our right to express ourselves and read without censorship or interference. Keep reading for Banned Books reading list inspiration, and stay tuned all week for more recommendations.
Click here to enter for your chance to win a personalized Banned Books Box filled with ten of your favorite books and a special banned books mug courtesy of Out of Print Clothing (No purchase necessary. US residents, 18+. Ends 9/30/17. See Official Rules.)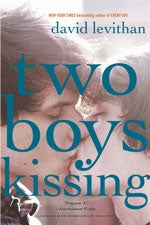 TWO BOYS KISSING by David Levithan
Challenge Reasons: Homosexuality, Condoning Public Displays of Affection
Based on true events—and narrated by a Greek Chorus of the generation of gay men lost to AIDS— TWO BOYS KISSING follows Harry and Craig, two seventeen-year-olds who are about to take part in a 32-hour marathon of kissing to set a new Guin­ness World Record. While the two increasingly dehydrated and sleep-deprived boys are locking lips, they become a focal point in the lives of other teens dealing with universal questions of love, identity, and belonging.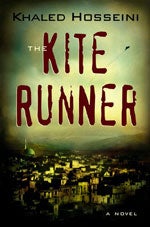 THE KITE RUNNER by Khaled Hosseini
Challenge Reasons: Offensive language, Unsuited to Age Group, Violence
The unforgettable, heartbreaking story of the unlikely friendship between a wealthy boy and the son of his father's servant, The Kite Runner is a beautifully crafted novel set in a country that is in the process of being destroyed. It is about the power of reading, the price of betrayal, and the possibility of redemption; and an exploration of the power of fathers over sons—their love, their sacrifices, their lies.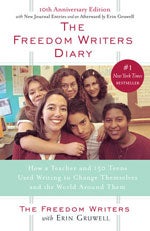 THE FREEDOM WRITERS DIARY by Erin Gruwell
Challenge Reasons: Racial slurs, Sexual Content
As an idealistic twenty-three-year-old English teacher at Wilson High School in Long beach, California, Erin Gruwell confronted a room of "unteachable, at-risk" students. One day she intercepted a note with an ugly racial caricature, and angrily declared that this was precisely the sort of thing that led to the Holocaust—only to be met by uncomprehending looks.
Also during Banned Books Week, head over to Out of Print Clothing to find out how you can contribute to hurricane relief efforts through book donations from Penguin Random House. For each piece of Banned Books merchandise sold on the Out of Print website during Banned Books Week, September 24 – 30, Penguin Random House will donate one book in support of hurricane relief efforts through First Book up to 10,000 books. Click here to start browsing and give back.
Posted: September 26, 2017