Penguin Random House and MTA Metro-North RR Debut "Grand Central Reads"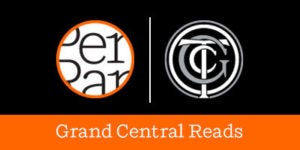 Penguin Random House is exclusively partnering with the MTA Metro-North Rail Road on Grand Central Reads, which mirrors the Subway Reads platform we launched two years ago, this time targeting commuters going through Grand Central Terminal. The June 26 launch was timed to coincide with the 40th anniversary of the U.S. Supreme Court's announcement of a decision in Penn Central Transportation Co. v. New York City that saved Grand Central from redevelopment. Through August 31, commuters can use their mobile devices to download free Penguin Random House book excerpts from inside Grand Central Terminal, station platforms and the Park Avenue Tunnel. To access Grand Central Reads, customers can connect to the public Wi-Fi and visit grandcentralreads.com.
"Penguin Random House is pleased to partner with the MTA to offer book selections tailored and timed to the length of individual commutes," said Madeline McIntosh, CEO, Penguin Random House U.S. "Books are fantastic companions that add inspiration and entertainment to the commuting experience, and we're delighted that Grand Central Reads puts our books together with visitors to this wonderful historic landmark."
"We create partnerships and experiences like Grand Central Reads to help us consistently evolve and improve how Grand Central Terminal serves the 750,000 people who pass through and visit daily," said Metro-North President Catherine Rinaldi. "We're excited to give people an opportunity to ignite their passion for reading, connect with each other, and experience the heart of New York City in new ways."
Grand Central Reads features a wide range of our Penguin Random House titles, including:
Grand Central visitors who enjoy the excerpts also can choose to purchase the full-length e-books directly.
For more information about the Grand Central Reads program, please visit: grandcentralreads.com
Posted: June 27, 2018