Penguin Random House Donates Books to Save the Children as Part of "Grand Central Reads"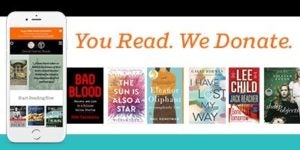 Penguin Random House has launched a limited-time charitable-giving opportunity as part of our Grand Central Reads partnership with MTA Metro-North Railroad and Grand Central Terminal, a brand new program that allows commuters and visitors to use their mobile devices to download free Penguin Random House book excerpts.
In celebration of Penguin Random House's five-year anniversary, the company is offering Grand Central Reads users a special 5-minute Reads section on the mobile platform, which will trigger book donations from Penguin Random House to its charitable partner, Save the Children, empowering New Yorkers to give back to those in need. For every five minutes read in this section, Penguin Random House will donate one of its book to global humanitarian organization Save the Children, up to 25,000 books, which will be distributed during community events, family activities and holiday celebrations at parks, schools, and libraries in the areas the organization serves.
"Inspiring a culture of reading in communities is central to who we are and what we do as Penguin Random House," said Claire von Schilling, EVP, Director, Corporate Communications, Penguin Random House. "This special initiative on the Grand Central Reads mobile platform is a wonderful opportunity for us to come together with Save the Children and our home-town New Yorkers to give back and make a positive difference in the lives of others through books."
"Save the Children is committed to ensuring every last child gets the opportunity to learn," said Carolyn Miles, President & CEO, Save the Children. "We know the significant impact reading can have on a child's life, and are grateful for Penguin Random House's support and the Grand Central Reads partnership in helping us give more children the best chance for success."
Grand Central Reads features a platform created by Penguin Random House that offers users free access to extensive excerpts from a wide range of its book content, including thrillers, nonfiction, classics and cookbooks, via free wi-fi, inside Grand Central Terminal, on terminal platforms, and in the Park Avenue Tunnel. The program highlights the works of New York authors and stories featuring the Big Apple, Grand Central Terminal, and eventful train rides. Among the featured titles are:
For more information about the GCR program, please visit grandcentralreads.com.
Posted: July 5, 2018