Penguin Young Readers and Framebridge Announce Exclusive Custom Framed Art Collection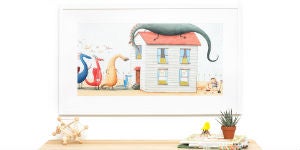 Framebridge , the simple way to custom frame everything you love, and Penguin Young Readers, are bringing book illustrations off the pages and onto your wall for the first time with the launch of Penguin Print House, a new collection of limited edition framed artwork from beloved children's books. Featuring vibrant art from timeless classics, celebrated award-winners and current bestsellers, the collection offers bright, fun and playful décor options for every nursery and children's bedroom.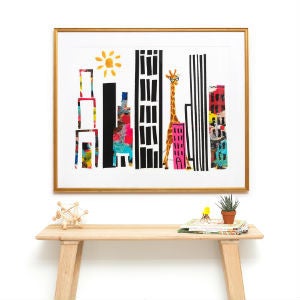 Starting today, customers can choose from ten different Penguin Young Readers art prints on Framebridge.com/penguin to have custom framed by the experts at Framebridge. The Penguin Print House collection features framed art from childhood favorites, including CORDUROY by Don Freeman, LLAMA LLAMA RED PAJAMA by Anna Dewdney, DRAGONS LOVE TACOS written by Adam Rubin and illustrated by Daniel Salmieri, MITFORD AT THE FASHION ZOO by Donald Robertson, THE NOT SO QUIET LIBRARY by Zachariah OHora, WONDER BEAR by Tao Nyeu, and MY ABC BOOK and THE ANIMALS' VACATION from the Grosset & Dunlap Vintage line. The art prints are available in four different frame styles and will be fully custom framed and shipped nationwide, arriving within days. Each custom framed limited edition print will arrive completely ready to hang with a signed certificate of authenticity from the illustrator.
"We were excited to work with Penguin Young Readers and their amazing artists because the stories and imagery from these iconic books provide such lasting, magical and happy experiences for young kids and their families," says Susan Tynan, Framebridge founder and CEO. "It's a natural fit to take these cherished artist works and place them on the wall where they can inspire fun and creativity in a new generation of readers while bringing back special memories for so many of us."
"We are delighted to partner with Framebridge on this unique line of collectible prints," says Jen Loja, President, Penguin Young Readers, "and we look forward to introducing new books and illustrators to the collection over the next year.
In just over two years, Framebridge has redefined the traditional custom framing experience by making it easy and affordable for consumers to custom frame their favorite art, mementos and photos. The experts at the Framebridge factories in Maryland and Kentucky have custom framed hundreds of thousands of items from customers around the U.S. Each frame is handcrafted in the United States using the highest quality materials, and with a serious attention to detail.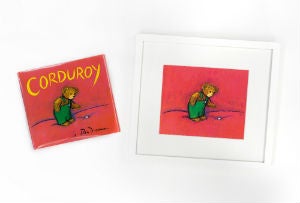 Prices for these limited edition framed works range from $150 to $300. Consumers can visit www.framebridge.com/penguin for more information and to view the collection.
Framebridge launched in late 2014 to make it easy and affordable for consumers to custom frame the things they love. Customers can choose from a curated selection of on-trend frame styles, then upload their photos on the Framebridge website, or ship their items directly to Framebridge in prepaid packaging. The expert team at Framebridge will receive their items and handcraft beautiful custom frames to the customer's exact specifications. The finished pieces ship directly to consumers, arriving in days. Framebridge's transparent pricing, which is determined by the size of each item, begins at $39 and includes free shipping. Framebridge is based in Washington D.C.
Read our related Igloo feature: Q&A with PYR's Sara Dayton on the Launch of Penguin Print House
Posted: July 26, 2017